African All Stars
Copa Coca-Cola Ibadan regionals final Preview: Red hot Kwara looking to seal qualification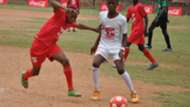 Lagos vs. Ogun
Its two games and no wins for Keme Balogun junior College representing the commercial capital. Their hopes to make it for the national finals in their home base looks dashed but they'll need to put up something good against Nawair-ud-deen Junior High School of Ogun State if they want to go back home with some pride.
Ogun where able to conjure a 2-1 win over Ekiti for their first win of the competition and considering that their Lagos counterparts have been struggling, they'll be looking to exploit that weaknesses for another victory.
Kwara vs. Ondo
Muslim Community Secondary School are the pacesetters in this regional thanks to their two wins on Thursday against Ogun and Lagos State. Goals are burning in them, with nine goals scored so far. They will thus be confident here and will rely on Temitope Omodara who has four goals to his name.
Ondo Boys High School are still without a win in the competition despite showing a lot of promise and enthusiasm. That however hasn't brought the desired results and will it all to do against their lethal opponents.
Ekiti vs. Kwara
Christ School, Ekiti, had a bitter sweet day two. After leaving it late to beat Ondo Boys High School 3-2, they succumbed to a 2-1 defeat against Nawair-ud-deen Junior High School of Ogun State.
Their chances of making it to the national finals could rest on this game but with a potent Muslim Community Secondary School to face, they have a lot of work to do in their last game of this regional.
Ondo vs. Lagos
The final contest of the Ibadan regionals will see the two weakest teams in Ondo Boys High School and Keme Balogun Junior College slug it out.
The deal here is that both sides could have been officially knocked out of the tournament by the time they clash, pending their results against the impressive Kwara and Ogun.