African All Stars
Copa Coca-Cola Bauchi regional finals Preview: Yobe face Taraba in qualification battle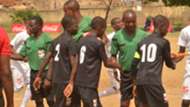 Taraba vs. Borno
 
Government Secondary School, Taraba State will hope they can make it three wins in three games when they battle Government Day Secondary School of Borno State at the General Hassan Unity School on Saturday morning.
 
The boys from Jalingo boasts of six points from two games with wins over Adamawa and Borno respectively, and they will be looking consolidate their position on top of the table to stand a chance progressing to the national finals.
 
Meanwhile, the boys from Maiduguri will anticipate an upset to claim their first victory after failing to see off Yobe and Adamawa respectively in their final match.

 
Yobe vs. Gombe
With two successive opening wins against Borno and Adamawa respectively, Government Day Secondary School of Yobe State will focus on avoiding a slip against Government Secondary School, Gombe on Saturday.
 
With six points putting them in strong contention for a place in the national finals, the boys from Damaturu will seek to keep their winning start intact.
 
Boys from Gombe, on the other hand, will be aiming to recover in time after 1-0 loss to Taraba and relaunch their quest to finish atop with victory over ambitious Yobe.
 
 
Adamawa vs. Gombe
 
Government Day Secondary School, Adamawa will be targeting a consolatory win when they confront Government Secondary School in their fourth game at the Bauchi regionals.
 
Having unsuccessfully earned no win in their three opening games, the Yola side would delight bowing out on a winning note after securing a 1-1 draw against Borno.
 
On their part, GSS, Gombe will desperately anticipate the chance to make a late fight to reach the national finals with hopes of having already seen off Yobe.
 
 
Yobe vs.  Taraba
 
Government Day Secondary School, Yobe will battle Government Secondary School, Taraba in the decisive match at the Bauchi regional finals.
 
The encounter dubbed biggest game of the day will see both teams tackle for the top spot as they hope to emerge winners in the north-eastern city at the General Hassan Unity School.
 
Holding a two-goal advantage over their closest challenges from Yobe, the Jalingo boys will eagerly fight to finish and possibly secure the ticket for the Lagos finals.