Goa
ISL 2018-19: Continuity and freedom key to Sergio Lobera's success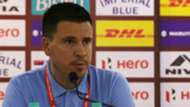 FC Goa enter the break as the table-toppers of Indian Super League (ISL) with 16 points from their seven games, three more than second-placed Bengaluru FC who have played two games less.
The Gaurs have dominated their opponents in every department except defending. Goa's style of play which includes a high line and full-backs pushing high up the pitch is a recipe for defensive disaster. But head coach Sergio Lobera, a firm believer of attacking football is unbothered by the lack of cleansheets.
"Maintaining a clean sheet is not something we are obsessed with. What I'm obsessed with is the goal difference. I would always prefer to win 5-2 rather than win 1-0. That's a goal difference of +3 compared to just one," he said.
With full-backs Mandar Rao Desai and Seriton Fernandes overlapping on the wings, the wingers Jackichand Singh and Hugo Boumous are allowed the freedom to drift into more central zones. Goa have sometimes attacked the opponents with five men upfront. This numerical superiority in the attacking third provides the players a lot of freedom.
Ferran Corominas is arguably the best player in the league. He scores, provides and even drops deep to facilitate build-up. The Spanish international has scored eight goals already in the six games he's played. Goa have scored 21 goals this season at an impressive rate of three goals every game. When put into perspective, Coro's contribution of about 38% of the total goals scored does not necessarily show over-reliance of the team on their best player.
"Coro is obviously a very important player for us. But I also think that we have shown us we are not entirely reliant on Coro," said Lobera.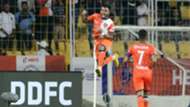 Edu Bedia has four goals to his name and the likes of Miguel Palanca, Jackichand and Mourtada Fall have chipped in a couple more. Having said this, the fact that Goa's only defeat came in Coro's absence renders this debate open.
Bedia has further improved this season. The Spanish midfielder was accustomed to a deep role last season. But after exhibiting some profligacy in the final third, Lobera has decided to allow hi the freedom to function has a number 10. Bedia has stepped up brilliantly after Manuel Lanzarote switched to ATK. The fact that the absence of a player of Lanzarote's quality is another testament to how Goa's system has proved to be highly self-sustaining.
The double pivot of Lenny Rodrigues and Ahmed Jahouh has been vital for Goa's success. The latter has been the fulcrum for the team in transition. With about 78 passes every game at an accuracy of 81.5 per cent, Jahouh has been fruitful with his distribution. The midfielder has three assists to his name and has been a vital cog for the Gaurs.
Other contributing factors for Goa's impressive start to the season include lack of injuries and good quality on the bench. Carlos Pena, Palanca and Brandon Fernandes have enough quality to start for a few ISL teams but are made to work for limited opportunities at Goa.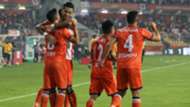 Goa are without a shred of doubt, the most entertaining team in the league. If you are a neutral watching the ISL, you wouldn't miss their games. They promise goals, scintillating attacking football, stunning skills and at times, defensive lapses. They are a high drama team.
However, the crux of Goa's success lies in the identity that Lobera has established after over a season at the club. A system that's not oriented to an individual but rather caters to the entire team has helped them function like a well-oiled machine.
This identity is a result of a continuity in the philosophy and Lobera has not changed his style of play much from last season. A lot of credit has to go to the FC Goa management for giving Lobera a free hand in recruiting players that he wants. 
That has meant that Lobera has got his team playing exactly the way he wants and in the process, has raised the level of the players as well. The likes of Coro, Bedia, Boumous and Jahouh have all raised their games a notch from last season. 
The credit goes to the coach and the management.