Antonio Conte
Conte: Italy beat one of the best but need titanic effort against Germany
Antonio Conte was delighted with the team work his Italy side put in to eliminate Spain from Euro 2016 on Monday, but called on them to put in a "titanic effort" against Germany in their upcoming quarter-final.
Goals from Giorgio Chiellini and Graziano Pelle saw the Azzurri beat the reigning European champions in the last-16 and set up a clash with the World Cup holders in the next round.
And Conte was delighted with the way his side swept past Vicente del Bosque's men, praising the players for the way they have come together and masked the squad's weaknesses.
"I've always said since I took over the team that the only way we could achieve a semblance of success is to try and be a club - a team that plays a league season," the Italy manager told reporters.
"We can't allow ourselves to simply be a group of players. There's no point in hiding the fact that it's not the rosiest period for Italy in terms of footballing talent so, given the fact that we can't fall back on a selection of good players, we need to be a team from every perspective.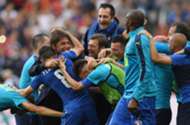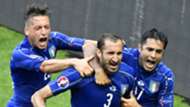 "I think we are a team, not simply a selection of players. We were against Ireland, we were against Sweden and we were against Belgium.
"I'm pleased for the players because we've been working intensively for over a month now to try and do something great and surprise everyone a bit. I think, to an extent we've succeeded on that score.
"As I've said, I think Spain are one of the best sides in the world. They have some wonderful players, not just those who start.
"This really is a lovely time for Spanish football because again they have won both the Champions League and the Europa League, Twice in three years it's been a Spanish Champions League final. They are in good health and that should fill us with pride and satisfaction.
"Clearly, beating Spain wasn't on the agenda. We hadn't beaten them at a major tournament since 1994. Now and then, it's only right that we can celebrate from this perspective.
"We're delighted that it occurred today in a knockout fixture - a game with no tomorrow for one of the sides. There's no tomorrow for Spain, there is for us. I am delighted for this special group of players.
"They are lovely individuals, they enjoy fighting together and go the national team. They make the country proud of us.
"From the first players to the 23rd player, they are all involved. Like I play the match from the touchline. We're all exhausted and have to shower afterwards."
Looking forward to Saturday's clash with Germany, the coach was quick to temper expectations, pointing to his side's defeat to Joachim Low's men earlier this year, but believes his side have a good chance to reach the final four.
"We're coming into this on the back of 4-1 defeat in March, lest people forget," he added. "On Saturday we are playing against the best side in the European Championship bar none
"This was hard today and we will need a titanic effort against Germany from every perspective.
"Thiago Motta will be suspended and that will really damage us because Di Rossi has hurt his hip and we don't know how bad that is.
"There are a lot of hurdles in our path but when the going gets tough we do tend to respond.
"We'll start to think about Germany on Tuesday. I think Germany are a cut above the rest. I've got no problem stating that.
"We will need to recover out energy levels get some injured players back fit again and prepare the game with the same attention, desire and determination."