Everton
Barkley accused of having 'no football brain' after England's Euro 2016 exit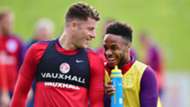 Former England striker Stan Collymore claims that coaches who have worked with Ross Barkley believe that the midfielder does not have a 'football brain'.
The 22-year-old didn't play a single minute of England's failed Euro 2016 campaign as Roy Hodgson's side crashed out following a 2-1 defeat to Iceland on Monday evening.
Barkley's career was accused of becoming stagnant under Roberto Martinez at Everton, but Collymore suggests that the midfielder's tactical nous isn't good enough at the highest level.
"I've heard from coaches who've worked with him for a number of years at all levels that he's got talent but no football brain that can adapt to differing situations on the pitch," Collymore wrote in his column for Boylesports.
"In other words it's all off-the-cuff and when that doesn't work then he becomes a liability. Damning, but perhaps true that while [Raheem] Sterling and [Jack] Wilshere were getting games despite poor fitness and form Barkley wasn't doing enough in training to depose them.
"That should work the lad, so let's hope Ronald Koeman is the man to make his the talent and football mind that we all expect."