African All Stars
Copa Coca-Cola regionals Wrap: Harvest of goals in Ibadan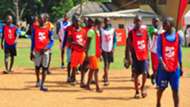 Kwara 5-2 Ogun​
Muslim Community Secondary School of Kwara State kicked off the opening game of day two against Nawair-ud-deen Junior High School and it was nothing but outright entertainment.
MCSS had an extra day of rest as they didn't take part in day one activities and it seemed to benefit them as they took a 3-0 lead courtesy of Temitope Omodara who scored a hattrick. Ogun clawed their way back, scoring two goals via Matthew Okewunmi.
3-2 it was at halftime and MCSS' Damilola Oloyede added a brace to give his Kwara side a deserved 5-2 win.
 
Ekiti 3-2 Ondo
Christ School, Ekiti, were up against Ondo Boys High School and it had everything to play for as both sides drew their respective opening matches against Lagos and Ogun.
Ekiti started well and got a deserved lead through Dotun Ogunwole who fired home a brilliant free kick. 1-0 some became 2-0 as Ayomide Adeloju cut in front the left channel and curled the ball past Ondo's goalie.
Ekiti leading comfortable at halftime but Ondo got their composure back in the second half and replied with goals from Kareem Kamarudeen and Akeem Salawudeen to make 2-2. Ondo started pilling on the pressure from here with what looked like a clear goal ruled out for offside.
Kwara 4-1 Lagos
Muslim Community Secondary School was heading into this game against Keme Balogun Junior College of Lagos with a lot of confidence following their 5-2 win over Ogun earlier. The opening minutes were a bit cagey but it was Kwara that took the lead through Ayanfe Olarinde, who fired a thunderous shot from almost 25 yards.
It was 1-0 at the break but upon resumption, Kwara made it 2-0 courtesy of Lateef Muritala. Lagos did get a goal back through Toluwalope Oyenuga, who scored from the penalty spot.
Ayanfe would make it 3-1 for Kwara as he connected with a cross from hattrick hero in the first game, Temitope Omodara. Omodara sealed the deal not long after with his fourth goal of the day making it 4-1 for MCSS.
There was a moment of madness as Lagos' Alimi Fawas saw red for reacting angrily against the referee. It was a day of frustration for Lagos who are without a win from two games but its joy for Kwara with two wins from two.
Ogun 2-1 Ekiti
Nawair-ud-deen Junior High School of Ogun headed into this game without a win from two games and it was going to be difficult against Christ School. Ekiti, who were fresh from a 3-2 win against Ondo Boys High School.
Ogun had the first chance of the game but it was ruled out for offside. Ekiti would take the lead through Shola Ogunlana who had scored the winner against Ondo earlier. He made a run from the left flank, cut inside and fired the ball home. Ogun would however respond through Azeez Ogunbunmi who scored from a corner.
It ended 1-1 at halftime but Ekiti would start the second half brighter with Dotun Ogunwole sending two free kicks wide. Ogun would take a 2-1 through Wasiu Bashir and also had the chance to make it 3-1 but he shot straight at the keeper.
Ogun would hold on for a 2-1 win, their first of the competition, to wrap up day two action in Ibadan.