Community Shield
'Chelsea need to sign players' - Nigerians react to Community Shield loss to Man City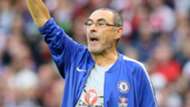 Football enthusiasts have called on Chelsea to sign more players before the start of the new English Premier League season after their 2-0 defeat to Manchester City in Sunday's Community Shield.
Sergio Aguero's efforts in the each half of the encounter handed the reigning league champions their first silverware in the 2018-19 campaign, with Maurizio Sarri condemned to defeat in his first competitive game at the helm of the London side.
The Blues have only acquired two players this summer - goalkeeper Rob Green [free transfer] and Jorginho [£57m move from Napoli].
Sunday's performance at Wembley has prompted fans to clamour for more new legs before the Premier League transfer window shut on August 9.
What's up with the @ChelseaFC board?? Can't you see a crisis coming already. Please sign players and show some progress #chelsea . #Morata is such a waste of money

— Akhilesh Nag (@chelseaktbffh10) August 5, 2018
Sarri wa gba FC pic.twitter.com/KlhgFOK8uv

— Man United in Pidgin (@ManUtdInPidgin) August 5, 2018
Hello SARRI, I officially welcome you to the EPL. You want to match City and play beautiful football? you need to sign players like Pep did and don't forget, it takes time too.
City still the team to beat. I love @ChelseaFC , what about you???

— Amaka (@AmakaokoliDD) August 5, 2018
Hey ode, @ChelseaFC... Sign players, you'll not sign. You think you're doing me. Shioor 😂

— Elvis Tunde ⚓ (@Tunnyking) August 5, 2018
The only work to do is sign some decent players

— Oluwaseyi (@Jaythang0107) August 5, 2018
SIGN SOME QUALITY PLAYERS AND GET RID OF THE DEAD WOOD !

— Thomas Hoskins ⭐ (@RealTomHoskins) August 5, 2018
Chelsea's backline are majorly average players who were made to work because they defended as a 5.
Sarri system requires players of apex intellect, otherwise this system can look pretty null.
The positive from this match is Chelsea might wake up and sign someone in next 4 days.

— Akshit (@akshit_miglani) August 5, 2018
Sign top players, you should kick out Pedro and Morata lately they're useless players.
We won't get anything this season if you don't get better players.

— Erick Landaburú (@ErickLandaburu) August 5, 2018
It is the same work you left undone last season. Sign big players!!! Argh!

— Obinna (@Obinnatweets) August 5, 2018
Roman should have sold this club when the British billionaire offer to buy it

We would have had NEW ambition by now

Sign a new coach and only one player

Smh.... @ChelseaFC

— Nas (@ndabagi) August 5, 2018
@ChelseaFC and Sarri , you gonna tell me that this the team that's going to put smiles on our faces this season? Stop playing and go out to sign players

— #Seun! ☠️ (@seun_madrista) August 5, 2018
A team who fails to sign good players will always suffer defeat. They only buy for buying sake. Aguero will continue to score against @ChelseaFC even if he plays for Sunderland

— Stan 🇬🇭🇬🇭🇬🇭 (@Kabutey_Stan) August 5, 2018