Africa Cup of Nations Qualification
Champagne still on ice as Kenya awaits Caf communication over Afcon future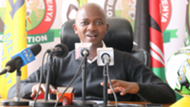 Kenyan football fans will have to wait a little longer before they can finally open the champagne in celebration of the country's qualification to the 2019 Afcon finals.
The local fans are waiting with bated breath to know whether Harambee Stars will finally end their 14-year wait to appear at the continental showpiece set to be staged in Cameron in 2019.
But a Fifa ban on Sierra Leone is delaying the celebration in Kenya. The Afcon qualification in Group F has been thrown into a state of confusion; Sierra Leone's opponents-Kenya, who are top of the group with seven points; Ghana and Ethiopia, have no iota of an idea on who will safely make it out of the group. And just like the players, fans and administrators of the three nations are also left wondering the next move Caf will take.
Predicting the most likely outcome from the suspension was made even harder after Caf allowed Equatorial Guinea to take part in the Africa Women Cup of Nations, despite the fact that the country is still serving a Fifa ban.
If the latest drama witnessed ahead of the Awcon finals is anything to go by, then anything is possible-Sierra Leone might be reinstated back to the qualifiers.
Harambee Stars were meant to play Sierra Leone on Sunday, but Caf called off the match, leaving the Football Kenya Federation guessing the next course of action that the continental body will take.
As it stands Sierra Leone have three games at hand, having also missed a home and away clash against Ghana, but Nick Mwendwa has confirmed that Kenya is yet to receive any communication about the way forward.
"We are already there (in Afcon) but let not open the champagne yet. We are waiting for Caf to write to us officially confirming that the game will not take place (in future).
Mwendwa, however, says that he doesn't see any possibility of Fifa allowing Sierra Leone to play their matches outside the calendar. "Sierra Leone have missed three games so far and it is almost impossible that there will be another window to release players," Mwendwa noted.
The FKF boss says that Harambee Stars will go ahead to kick off their preparation for the continental champion in May even if Sierra Leone's case will still be pending.
Mwendwa said that Harambee Stars will stage a camp in France for the pre-season camp on their way to Cameroon.