PSL
Cape Town City coach Tinkler eager to make his mark in Africa to attract European interest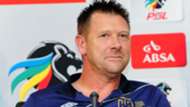 Eric Tinkler led Cape Town City to the Telkom Knockout Cup in the team's first season in the elite league. 
He also guided them to a top three finish, meaning the Citizens will participate in next year's Caf Confederation Cup, and Tinkler is now looking to make his mark on the continent and attract European interest. 
"I think that as a coach, I've still got a lot to learn. I'm not even thinking about Bafana, at the moment I just want to achieve as a club coach," Tinkler told IOL.
"Of course I would love to coach in Europe, but the harsh reality is that our league is not that much recognized around the world. That is why you have to prove yourself by going into Africa, in the Caf competitions, because that's what puts your name in Europe, not through the PSL," Tinkler said.
Meanwhile, Tinkler is proud of his team's achievements this season, and he is already looking forward to the next campaign which they are keen to start just as well as the recently concluded campaign.
"I'm not even thinking about what people are saying. I'm proud of what we have achieved at City, but I know from experience, that this game can bite you. I've been through the highs and the lows. Already, next season is waiting and, if we don't start well, it can all turn against you," Tinkler said.