Chelsea
Can Conte blame poor finishing for Chelsea's tame title defence?
Antonio Conte has grown increasingly frustrated with his players' inability to finish, which he says extends beyond his strikers and throughout his whole team.
Huddersfield were the latest team to frustrate the Blues, claiming a 1-1 draw at Stamford Bridge on Wednesday in spite of 90 minutes of bombardment from the west London club.
By claiming a precious point, the visitors not only secured their survival, they also effectively consigned fifth-placed Chelsea to the Europa League, as Liverpool now only need to avoid defeat at home to Brighton on Sunday to claim England's fourth and final Champions League berth.
That is a depressing state of affairs for last season's champions, who failed dismally to mount anything resembling a title defence by carelessly dropping points against the likes of Crystal Palace, West Ham, Bournemouth and Watford during a bitterly frustrating campaign.
Of course, Alvaro Morata has borne the brunt of the criticism, which is unsurprising, given the Spanish forward was charged with the responsiblity of filling the boots of Diego Costa after being signed from Real Madrid last summer for a club-record £60 million.
However, while Conte has repeatedly lamented his side's struggles in front of goal, he has never singled anyone out, preferring instead to paint their profligacy as a collective problem.
"We must accept staying fifth in the table," he said after the game on Wednesday. "But it's a pity because, also today, I saw a fantastic commitment from my players. 
"They tried to get three points but they weren't able to score one goal more than our opponent.
"Football is simple: if you want to win, you have to score one goal more than your opponent. We weren't able to do this. Again."
Chelsea's inability to turn pressure into goals has undoubtedly played a colossal role in their unsuccessful title defence.
Last season, Conte's side racked up 85 goals (2.2 goals per game) and had the highest conversion rate of any club, netting with 14.66 per cent of their shots.
As it stands, newly crowned champions Manchester City have scored a record-breaking 105 times, with a conversion rate of 16.1%.
Chelsea got nowhere near matching those remarkable numbers, managing just 65 goals in 37 games (1.7 gpg) so far this term.
In addition, the Blues' conversion rate has also fallen to 10.3%, which puts them below every other side in the top six. Even more jarringly, they also rank below Everton, Leicester and West Ham.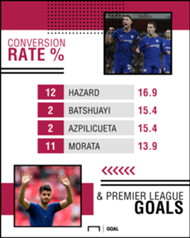 It's easy to understand why Morata has been the focus of the criticism.
Even though he has had 10 more shots on target (63) than Eden Hazard (53), the Spaniard has scored one less goal (11) than his Belgian team-mate, who is a winger by trade, even if he has been sometimes used through the middle this season.
Also, while Hazard boasts a conversion rate of 16.9%, he still ranks well below specialist strikers such as Javier Hernandez, with his league-high 27.6%, and Jamie Vardy (27.3%). How Chelsea could have done with such a clinical marksman!
Indeed, Morata is only the the fourth-best finisher in Chelsea's squad, with a 13.9% conversion rate. Even more frustratingly for Blues fans, Michy Batshuayi, who was allowed to join Borussia Dortmund in January, ranked second on that particular list.
Still, there is no denying that Chelsea have finished poorly as a team.
Victor Moses, Pedro, Cesc Fabregas, Tiemoue Bakayoko, Davide Zappacosta and N'Golo Kante all have a conversion rate of less than 10%, while Gary Cahill's is 0%, given he has yet to hit the back of the net once, after scoring eix times last season.
Of course, Chelsea's problems go beyond finishing, with an over-reliance on Kante, which is in turn because Bakayoko and Danny Drinkwater have failed horribly to make an impact in midfield.
The defensive record has been broadly acceptable, but a few high-profile errors from the youthful Andreas Christensen have cost the side against big teams, although the Dane will learn from such mistakes.
There have also been selection problems for Conte at various points in the season, particularly at the end of both transfer windows, with Hazard having to play as a 'false 9' over the winter period.
However, while some may feel the Blues boss is looking for excuses, the stats show that he is right to complain about his players' poor finishing, which has been responsible for turning wins into draws, and draws into defeats.
As good a coach as Conte is, he cannot put the ball in the back of the net for them and Chelsea's profligacy has proven the difference between winning the title last year and failing to even challenge for it this time around.