European Championship
Brazil journalists 'attacked and racially abused' by Germany fans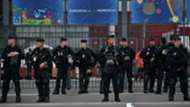 Two Brazilian journalists have claimed they were attacked and racially abused by Germany fans in Paris.
Fernando de Henrique Oliveira says he was slapped and his colleague Sonia Blota kicked while carrying out their duties for the TV station Bandeirantes.
According to Brazilian newspaper Estadao, the incident occurred on Thursday afternoon in front of the Gare du Nord train station, where transport to the Stade de France is available.
Oliveira said: "A guy accompanied by a group of about 50 fans came and cried out, 'get out, n******'.
"I asked him not to hit [Blota] and when we were leaving I heard again, 'get out, n******' and took a slap in the face.
"The pain is not physical, it is moral and psychological. It seems that for the rest of our lives we have to apologise for being black and a minority."
Euro 2016 has been plagued by violent incidents involving travelling fans, with the French interior ministry confirming on Thursday that 323 arrests had been made since the start of the tournament.