United States
Bradley, Jones and more - Ranking the USA's defensive midfielder depth chart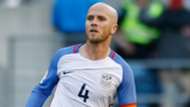 Of all the things Bruce Arena had to worry about when he reclaimed his old position as U.S. national team coach, figuring out who his captain and defensive midfielder would be ranked toward the bottom. Michael Bradley was more than capable of filling both roles, and as the U.S. looks to climb out of its World Cup qualifying hole, Bradley will once again be a key figure in the team's plans.
Bradley is far from being just some ball-winning brute in central midfield. Along with being able to cover the ground in front of the back four and give the defense a security blanket, Bradley can also help propel the attack from deep in midfield, where his passing eye can pick out long passes to deliver to the attack.
Ranking the U.S. left center backs
What is clear is that Bradley is head and shoulders above any other viable options at the position. That may not be apparent to some U.S. fans, but should be very obvious to Arena.
Figuring out just who qualifies as Bradley's leading backup is a tougher question. In theory, you can argue that Geoff Cameron is best-suited to play the role, but given how important he is to the U.S. central defense, it seems unlikely Arena would move Cameron to the midfield if Bradley weren't available.
Jermaine Jones spent a large part of his career playing as a defensive midfielder, but in recent years he has morphed into more of an attack-minded box-to-box midfielder, someone with a little too much freelancer in his game to be relied upon as a defensive midfielder. While that may be the case, the fact remains he can and likely will still be called upon to play in a defensive midfield role under Arena, who could still choose to partner Jones and Bradley in deep-lying midfield roles in some variation of a 4-2-3-1 against tougher opponents.
One of the more refreshing aspects of Klinsmann's departure and Arena's return is the fact some fresh faces at the position have, and should, earn looks. Klinsmann grew to love using Kyle Beckerman for a large part of his tenure, but with the Real Salt Lake midfielder now 34, and coming off a lackluster year, Arena arrives just in time to look at some new blood for the position.
Who are some of the players Arena could turn to? Here is a look at some of those options, and the rest of the defensive midfield candidates to keep in mind: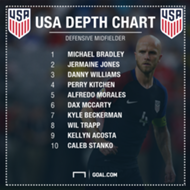 Danny Williams is a player who hasn't seen much of a look from Klinsmann in recent years, and sources tell Goal that part of the reason for that was down to Jurgen Klinsmann not wanting him to play in the English League Championship. Williams has done well at Reading FC and has merits a look from Arena for the March qualifiers, especially with Jermaine Jones suspended for the Honduras match.
Alfredo Morales has seen even less time with the U.S. team than Williams in recent years, despite playing regularly in the German Bundesliga. His only look since 2015 was a single friendly in 2016 and Morales is someone to keep an eye on for a summer return, potentially for the Gold Cup.
Perry Kitchen has enjoyed a successful move from MLS to Scottish club Hearts, which he is serving as captain of now. At 24, he is one of the younger options near the top of the depth chart, and could climb up this list if he makes the most of call-ups sure to come in 2017.
Wil Trapp is a player who has long been seen as a player with a bright national team future, and he is easily one of the best passers on this list. Had a bit of a down year in 2016, as did his Columbus Crew, but Trapp's talent is undeniable. He should bounce back this season and be on Arena's radar for a summer call-up.
Kellyn Acosta is poised for a breakout year with FC Dallas. He earned some national team looks under Klinsmann, but at left back. Arena has made it clear he sees Acosta as a midfielder, which should be music to Acosta's ears as he starts. Only 21, Acosta is set to start for one of the best teams in MLS and he should only get better.
One name to keep in mind in 2017 is Tyler Adams. The 18-year-old New York Red Bulls prospect and U.S. Under-20 national team starter could enjoy a breakout year, and while he's probably still a few years away from being a senior national team factor, his name is one to remember.