Bowen dominate Dunman in National Inter-School 'C' Division Girls Football Championships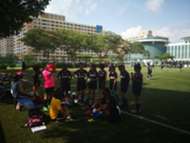 The Singapore Schools Sports Council (SSSC)/ Football Association of Singapore (FAS) National Inter-School 'C' Division Girls Football Championships 2018 kicked off on Monday 9 July with 10 schools competing for the title. Spectra Secondary School will be taking part in the Championships for the first time this year.
Teams will play in a round-robin format, with matches taking place on Mondays and Fridays from 9 to 23 July.  The semi-finals will be held on Friday, 27 July while the third place play-off and final will take place on Wednesday, 1 August.
Last Friday at Meridian Secondary School saw powerhouse Bowen Secondary school took on relative newcomers Dunman Secondary School. It was a one-sided affair with Bowen asserting their dominance in the match beating Dunman by to a score of 12-0.
In the first half Bowen's players controlled the game attacking with their opponents failing to get out of their own half. Bowen scored an early goal through their efforts and from there the floodgates opened.
Meanwhile the only positive for Dunman was their goalkeeper who made a string of good saves to keep their team in the game. Unfortunately the pressure proved too much as Bowen led by their captain kept on pressing relentlessly. That pressure resulted in them scoring four goals in total as the first half ended.
Subsequently in the second half the same narrative continued only that it got much worst for Dunman as they conceded a total of eight more goals. It was a disaster for the team. Bowen left the game with their chances of winning the competition boosted while it was back to the drawing board for Dunman.