UEFA Champions League
'Better than Cech!' - Arsenal fans fall in love with Ospina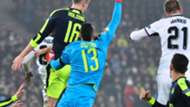 Arsenal fans fell in love with back-up goalkeeper David Ospina all over again in Tuesday's clash with Basel.
'Chelsea will lose advantage to Arsenal'
Lucas Perez scored a hat-trick in the Champions League tussle, but at the other end Arsene Wenger had Ospina to thank for keeping the Swiss hosts out.
The vast majority of Arsenal fans were gushing their affection for Petr Cech's reserve...
OSPINA IS THE ONLY DRUG COLOMBIA NEEDS

— Rhaegar Targaryen (@Yasmin_Gooner) December 6, 2016
We've got 2 animals in goal

Petr the shark Cech
David the shark Ospina

— tosi (@afcTosi) December 6, 2016
Ospina has been class in the UCL for us. Another crazy good save. Happy to have him at my club.

— ️️️ (@WengerTactic) December 6, 2016
Love ospina as our keeper. Absolute class!

— Rob Moulton (@RobertoMoulton) December 6, 2016
Ospina is definitely the best reserve keeper in the league

— El Nino Maravilla (@SpanishKash1) December 6, 2016
I'm pleased Ospina's getting Champions league games. Cech replaced him while he was in excellent league form. Seemed harsh.#bbcfootball

— Alistair Wiseman (@aliwiseman) December 6, 2016
that ospina save

— haya (@Haltunaib) December 6, 2016
Ospina actually is better than Cech

— Daniel (@DannyAFC91) December 6, 2016
...but not everyone was convinced!
I don't trust Ospina. I never will.

— Andy (@yorkshiregunner) December 6, 2016
Ospina really looking dodgy tonight absolutely clueless goalkeeping

— Sach (@SarriesKid10) December 6, 2016
Sceptical Andy and Sach were in the minority in pouring scorn on Ospina, however, who won many more admirers with his performance in
Switzerland
.