Premier League
Behind the book: Mesut Ozil's ghostwriter reveals best bits from new autobiography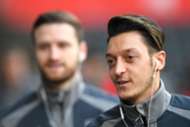 Mesut Ozil's rise from playing in a fenced-off Affenkäfig or 'monkey cage' to winning the World Cup for his country is certainly a story worth telling.

The Arsenal star reveals the ups and downs he has gone through in his career so far in a new autobiography 'Mesut Ozil: Gunning for Greatness', which includes never heard before stories about former team-mates and managers including Arsene Wenger.
Man Utd. facing fixture pile up

Ozil faced prejudice growing up in Germany's Turkish community and questions over his committment have previously been levelled at him, but the book provides a wider understanding of Ozil as a player, person and explains what makes the 'No.10' tick.

BILD journalist Kai Psotta was the ghostwriter of the German version of the book 'Die Magie des Spiels' and spoke to Goal Deutschland about several issues explored in the book, including the trophy that he most wants to win and why the first chapter was about an argument with former coach Jose Mourinho.
---
FALLING OUT WITH HIS FATHER
---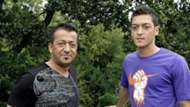 "At first you have to say that the book is dedicated to his father and Mesut knows how important he was for his career. He always was his biggest critic and pushed Mesut to the player we know today. 
"He also made important decisions for his son and Mesut is thankful for that. Someday his father believed that he could also be the manager of Ozil. But later he had to recognize that negotiations with (people like) Florentino Perez are not that easy. Both guys are very stubborn and the situation escalated. His father left the office and banged the door. Perez got angry and thought 'Hey, he can't speak with me like that I'm the president of Real Madrid' and the negotiations became a dispute. Mesut didn't recognise the extent of the dispute and expected to stay at Madrid and renew his contract and stay for a longer time. He still had dreams there: Get the Ballon d'Or trophy and win the Champions League with Real. But the dispute became a fight and influenced Perez' opinion and said that under these conditions Özil wouldn't play no longer for Madrid and would watch the games from the stand.

"These circumstances changed Mesut's opinion. He thought that the situation would damage his career if he doesn't stand on the pitch to play football. That's the reason why he wanted to quit Real although he was happy there. So he himself called Arsene Wenger who had called him the years before and said 'Arsene, now is the chance. A transfer is possible'. And it happened. And that was the reason why Mesut told his father 'Sorry but the manager job is too big for you. You are a good guy and a super dad but I prefer some other manager'. His father wasn't good enough for that business. Of course his dad doesn't look good in the autobiography but it is honest and the book not only shows a dream-like career of a professional footballer. If you don't tell these stories no one would read the book. You have to tell all the ups and downs."
---
THAT'S THE TROPHY MESUT WANTS TO WIN
---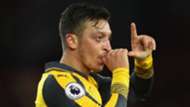 "He has the perfect age for a footballer and with the win at the World Cup in
Brazil
a dream came true but he absolutely wants to win the Champions League. He knows that his trophy collection is expandable. Of course he won
La Liga
and
Copa del Rey
in
Spain
but he wants to win one of the big international trophies."
---
WHY HE CHOSE REAL MADRID OVER BARCELONA
---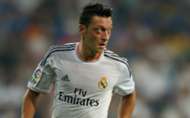 "His agent spoke to Bayern,
Manchester United
and Arsenal and told Mesut about the situation. Mesut was on vacation in Mallorca and travelled to
Barcelona
and Madrid to get some impressions. There he met Jose Mourinho and that was a key moment for his decision. He played with
Werder Bremen
against Jose Mourinho and told his former manager Reza Fazeli at that time that one day he wants to play under Mourinho.
"He liked him a lot and the conversation with Mourinho as a coach at Madrid who told Özil that he wants to have him in his team made the decisions easy for him. At Barcelona he did not have the same feeling. During the negotiations Pep Guardiola wasn't present and told him his plans but that's a thing which is very important for Mesut. Actually Barca was his dream. The football style was unique. They destroyed every team in Europe. He compared the two Spanish giants with sports cars. Barcelona was already the car with the perfect set up, but in Madrid he could contribute something for the development and Mourinho gave him the best feeling."
---
WHY HE DIDN'T JOIN BAYERN MUNICH
---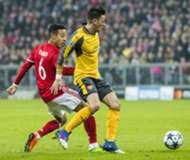 "At that time, there were five clubs interested in Mesut. Real Madrid, Barcelona, Manchester United, Arsenal and Bayern. Bayern lost the Champions League final that year (against Mourinho) and was not at this level we see them today. Of course they were the number one in Germany and won some big trophies in Europe but only since Pep Guardiola came to Bayern you can say that they are on the top level of Europe's best teams. 2010 Barca and Real were on another level than Bayern so they didn't play a big role during his decision."
---
THE DISPUTE WITH JOSE MOURINHO
---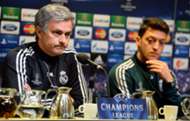 "At first he thought 'What does he want from me?' It was during half-time. Real was in front. Mesut had the opinion that he was playing well but 10 minutes out of 15 minutes half-time he was targeted by Mourinho. He provoked him and told him that he plays like a girl. And Mesut became more and more angry and threw his shirt in front of Mourinho and said 'You can play yourself if you know everything better'. And it really escalated.
Ibrahimovic out for the season
"But later Mesut reflected the whole situation and thought about why Mourinho treated him that way. So he realised that it was not the right reaction to run into the shower and let your team-mates down and additionally understood that it is not enough to only play good but you always have to give 100 per cent. He learnt under Mourinho to give everything for your team and work hard. Sergio Ramos and Cristiano Ronaldo were role models. That half-time humiliation by Mourinho had a big influence in the development of Mesut Ozil and that's the reason why he started his autobiography with this experience. It was a key moment."