Jacob Mahler
Be inspired: Jacob Mahler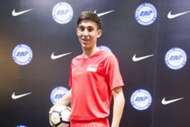 Fans of Singapore football will no doubt have to start getting used to the name Jacob Mahler for here is a player who is destined to be a footballing superstar.
At just only 18 he has already earned a call-up to the national and scored his first goal for his country in Singapore's recent win over Cambodia in a friendly. Yet this baby-faced teen is quick to emphasise that hard work has gotten him to where he is at today.
Putting in the hours at training and watching one's diet is crucial to him reaching the level he is at today. Indeed it's easier when he has his idol Singapore Captain, Hariss Harun, by his side in the practice sessions to look up to.
For Jacob the target would be to reach the heights of Hariss which equals to earning close to a hundred caps for Singapore and winning countless trophies. Significantly one trophy the Young Lions midfielder will have his eyes on is the AFF Suzuki Cup which will take place in November.
Jacob's chances of featuring in what will be his maiden tournament for his country has greatly increased after being called up by Fandi Ahmad for Singapore's friendly games, during the international window. Should he be selected, the youngster will be decked in the latest national team kit design by Nike.
Conversely he did not hide his liking for the latest jersey design mentioning how its colours both home and away is fresh. But the feature he loved the most was how Nike incorporated the latest Dri-FIT technology in the new national team kit, using textured high-performance yarn to help wick sweat from the skin and keep players dry and comfortable in games.
For Jacob that represented innovation by the Nike team as it helps enhance a player's performance on the pitch.
Jersey aside, the teenager will be ready to fight for his country should he feature in the AFF Championships. Furthermore, he will not want to let down his father who has been supportive throughout his budding career. Judging by his attitude and focus, there are not many who will doubt this rising star's ability.