Joe Hart
Barthez criticises 'inflexible' Hart following England's Euro exit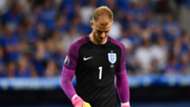 Fabian Barthez has heavily slated Joe Hart following the England goalkeeper's poor Euro 2016 campaign.
Hart, 29, proved to be one of the Three Lions' worst performers in France, making costly errors in the 2-1 win over Wales and shock defeat against Iceland by the same scoreline.
And Barthez has since had some harsh words for Hart, who he believes is not "aggresive" enough and is two levels below his counterparts such Manuel Neuer, Thibaut Courtois and Hugo Lloris.
Barthez told France Football: "His diving technique isn't good. It's too horizontal, not aggressive enough. He messes up because he doesn't attack the ball's path, meaning his hands are then pushed back by the impact with the ball.
"Hart is two levels below [Manuel] Neuer, [Thibaut] Courtois and [Hugo] Lloris.
"He isn't flexible and doesn't come out. When he runs, it's just 'thud, thud, thud'. It's heavy."
Barthez, who spent four years with Manchester United between 2000 and 2004, believes Hart's abject performances stem from a wider problem of how England produce goalkeepers.
The World Cup winner insists the Football Association must "change their philosophy" in terms of how they are developing shot-stoppers.
"I don't understand the English culture around the position. They need huge guys, but they're just walls that don't come out," he added.
"Clubs and the FA need to change their philosophy in developing goalkeepers."