Abdi Banda
Banda to continue with good work at Limpopo derby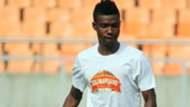 ABSA Premier League South Africa continues this Saturday at Limpopo Derby, where Baroka FC will play against Polokwane City at Mokaba Stadium.
A Tanzanian defender Abdi Banda who plays for Baroka FC is expected to be in the squad.
His team, Baroka FC believes that Banda can help it to go further .
The defender has played total of 1,684 minutes for South Africa League and has netted 2 goals, made15 tackling and won 9 while saving 5 clear chances of the open balls.
Banda has played 90 minutes in a League Cup while playing 360 minutes for the friendly matches.
The Tanzanian defender has made 25 appearances in all competitions and has been awarded only one yellow card.