Lionel Messi
'Ballon d'Or is a lie!' - Jordi Alba slams Messi snub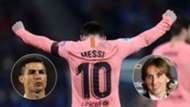 Lionel Messi's fifth place finish in the Ballon d'Or rankings proves it's "a lie", Barcelona star Jordi Alba says, accusing the award of favouritism towards Real Madrid players.
The Argentine finished outside the top two for the first time since 2007 as the decade-long stronghold he and Cristiano Ronaldo have had on the trophy came to an end, with Luka Modric being named the world's best player in 2018 .
While Ronaldo came in second in the vote, Messi dropped behind World Cup winners Kylian Mbappe and Antoine Griezmann, which Barca boss Ernesto Valverde dubbed "absurd" .
After seeing Messi inspire the Catalan side to a 4-0 win over Espanyol with two free-kick goals and an assist on Saturday, Alba says there is no debate that his 31-year-old team-mate is still the best around.
"The Ballon d'Or is a lie, there are many club and press campaigns [surrounding it]," the 29-year-old left-back told reporters. "Everyone knows that Messi is the best player in the world by far.
"If Cristiano was still at Real Madrid he'd get the Ballon d'Or. There were many fans and journalists who wanted Cristiano to get the Ballon d'Or when he was in Real Madrid.
"Well, Cristiano left... and Modric gets it."
Messi was a target for criticism from Brazil icon Pele, who says the Barca star should not be compared to himself or Argentina hero Diego Maradona . 
And Alba hit out at the 78-year-old for his claim that Messi "only has one skill".
"Pele may not see it very well, if he says that about Leo," he said. "Messi has everything."
Alba was not the only Blaugrana player to sing Messi's praises after his masterclass against their local rivals, as Sergio Busquets hailed him as the world's No.1 .
The Barcelona captain is now on 11 goals in 13 La Liga games, making him the first in history to break into double figures 13 years in a row .
Valverde's men are now three points clear at the top of the Spanish top flight, with Sevilla and Atletico Madrid lurking behind.
The club return to action on Tuesday in the Champions League though they have already locked up top spot in Champions League Group B. 
They face a Tottenham side looking to match or better Inter's result against PSV to secure passage to the last 16 and may not be willing to risk Messi in the clash.