Gareth Bale
'Bale very, very close to Messi & Ronaldo' - Real Madrid star one of world's best, says Eriksen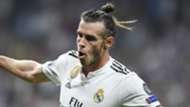 Real Madrid forward Gareth Bale is one of the best in the world and "very, very close" to the likes of Lionel Messi and Cristiano Ronaldo, says Christian Eriksen.
The Wales international has faced his fair share of criticism since leaving Tottenham for Spain as part of a record-breaking deal in the summer of 2013.
There have been plenty of highs for the 29-year-old, including four Champions League crowns, but form and fitness issues have tarnished his image at times.
Eriksen, though, believes that Bale has proved himself to be deserving of a standing in an elite group of talent, with only superstar performers with 10 Ballons d'Or between them sat ahead of the Welshman.
The Danish playmaker, who was signed by Spurs with the money generated from Bale's sale, told reporters: "He's a top, top player.
"Nobody in the world is the same as Messi or Ronaldo, but he's in a group who are very, very close behind them.
"He has been playing at Real Madrid for a long time now and he has done very well there. Even to ask the question about how he compares to Messi or Ronaldo shows he is up there.
"Bale is someone who can always give them something extra. He does it in any team he plays for.
"He is very quick, very direct, and he is always guaranteed for a few goals. International football is all about getting goals, and he does that."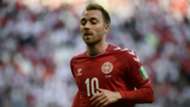 Eriksen is set to discover just how good Bale is when Denmark take in a Nations League trip to Wales on Friday.
Ryan Giggs' side currently top League B Group 4, but could be knocked from that perch if the Danes emerge victorious in Cardiff.
"I remember we were watching Wales against Ireland in the first game between them [which Wales won 4-1], and they were very impressive," added Eriksen.
"Going forward, they are very good. They have young, quick wingers and they are very good in attack.
"His [Giggs'] mentality is clear, and that has transferred to the team. Wales want to attack and play forward.
"We know it is like a final on Friday, and Wales have the possibility to win the group if they win the game.
"We know that, and it will be a fun game to play in front of a full stadium and in a good atmosphere. There will be an extra feeling which will make it different to a friendly game, so that is good.
"The last time we played Wales was off the back of them beating Ireland very easily. Then they had to come to Denmark, and I think they were tired. This time it will be a very different game."