Africa Cup of Nations Qualification
Bafana Bafana striker Rantie set to get 'a slap on the wrist' from Safa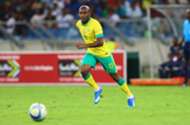 Stuart Baxter recently recalled Tokelo Rantie for the upcoming 2019 Africa Cup of Nations qualifier against Nigeria.
However, the Turkey-based forward's call-up did not come without controversy as he was previously guilty of going AWOL under former Bafana Bafana coach Shakes Mashaba.
Although, the South African Football Association (Safa) previously stated that the 26-year-old would face serious disciplinary action after he failed to honour the call-up, they are yet to investigate the matter.
Following the player's inclusion in the latest Bafana Bafana squad, Safa's communications manager Dominic Chimhavi denied claims that the association did not pursue the matter, rather he stated that they could not punish a player if was not in camp.
"It was not really that nothing materialised (of Safa's disciplinary sanctions)," Chimhavi told Times Media.
"What happened was that Rantie was never called for a camp. Bear in mind' the only time we can penalise a player is when he is in camp, because the players don't belong to Safa. Players belong to their clubs. So, what right do we have to discipline a player when they are not called for camp?"
When asked if Rantie would still face the disciplinary action, Chimhavi said that while they will revisit the issue, they would not pursue the matter further.
"No' look' what we agreed on is that we just need to revisit the issue," Chimhavi said.
"But we also don't want to destabilise the camp. So, it won't be a punishment' per se.
"But just to revisit what happened and express that we don't expect it to happen again," Chimhavi concluded.