Africa Women Cup of Nations
Awcon 2018: Ghana coach Hayford looking to redeem image against Cameroon
Group A Correspondent in Accra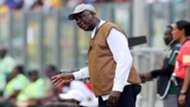 Ghana coach Bashir Hayford remains confident about their chances of securing qualification for the semi-finals of the ongoing Africa Women Cup of Nations despite their current precarious situation.
Following an opening day win over Algeria, the hosts suffered a setback on Tuesday by a 2-1 defeat to Mali, leaving them third on the table ahead of their last group game against Cameroon on Friday.
Anything but three points against the Indomitable Lionesses in Accra could condemn the Black Queens to an early exit on home soil.
"It has not been easy since we played our last game because the mood in camp was a sad one as the girls were in tears," Hayford said at the pre-match conference on Thursday.
"Against Mali, we played everything we knew but the result didn't go in our favour. It is in the past now and we have moved on. We are not out of the competition yet so we have another chance to redeem our image.
"Cameroon indeed has six points but they have also not qualified because in football anything can happen. Algeria can beat Mali and we too can beat Cameroon, so I want to urge Ghanaians not to write the girls off.
"I strongly believe that we will beat Cameroon tomorrow to get six points, then we see what happens in the other match between Mali and Algeria."
Cameroon, though, are determined to add to the hosts' woes. Despite currently sitting top of the table, the Indomitable Lionesses could be heading home should they fall heavily against Ghana and Mali beat Algeria.
"Our next game is against hosts Ghana and it will not be easy like people see it out there, especially as they lost their last game and will need nothing short of a win," coach Joseph Brian Ndoko said.
"This will not change how we are training and motivating the girls because we are focused the same way we did against Mali and Algeria.
"Mind you, we have not qualified to the semi- finals yet despite having six points, so there will not be the need for complacency against Ghana.
"A draw will see us through, but that will not be our vision going into the game. We are poised to end the Group Stages with a win and hopefully we can achieve that against Ghana tomorrow. We are going to give it our best shot."
Ghana and Cameroon faced off at the last Awcon in 2016, with the Indomitable Lionesses running out 1-0 victors on home soil.