International Champions Cup
Aubameyang can change the game in one sprint - Subotic
Borussia Dortmund downed AC Milan 3-1 in the opening fixture of 2017's International Champions Cup at the Guangzhou University Town Sports Stadium on Tuesday evening.
What are odds on Chelsea beating Burnley?
Pierre Aubameyang was the star of the game as the former Milan youth product scored a goal in each half, the first being from the spot.
The Gabon international was heavily linked with a move to the Rossoneri after their CEO Marco Fassone announced their interest.
However, Dortmund sporting director Michael Zorc has categorically stated that they won't sell the 28-year-old striker no matter how massive any offer that comes for him is. 
Milan's revolution needs Aubameyang
Dortmund central defender Neven Subotic went on to point out how important Aubameyang is for the team after the game. 
"I don't mind rumours and if I listen to rumours, I would be a very sad man! We are very happy because he has been a very important player for us. He has probably been one of the key players in the last few years because he is able to change the game with one sprint, one goal," he told Goal.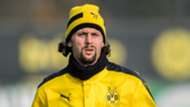 "He has been a very good team player. He also works defensively which is also one of the key aspects for a player in our club," he added.
Bayern Munich have won the Bundesliga for a historic five consecutive seasons now and the question remains whether Dortmund can end the dominance of the Bavarian club.
"There is a possibility in football and tons of possibilities in everything. But we know that Bayern has different (financial) capacity than us. They will, as always in the last few years, be the favourites. We are going to do the best. (The idea is) not to decide to challenge them but to challenge ourselves and then we will see where we end up," he signed off.
Dortmund are in action this Saturday against Bochum at the Vonovia Ruhrstadion.