UEFA Champions League
Atletico will never get a better chance to end Madrid hoodoo and win Champions League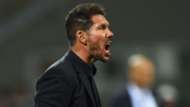 ---
COMMENT
---
Could it be fourth time lucky for Atletico? The Rojiblancos have lost out to fierce rivals Real Madrid in each of the last three seasons in the Champions League and now the two teams meet again in the semi-finals. They will never have a better chance of ending their European hoodoo against Los Blancos.
Madrid meet Atleti in Champions League semi-finals
Since winning the Europa League in 2011-12, Diego Simeone has made Atletico contenders every season in the Champions League. But, on each occasion, their campaign has ended with painful losses to Real.
The two teams met in the 2014 final in Lisbon, when Diego Godin's goal looked to have given them the trophy until Sergio Ramos' late leveller broke their hearts and Madrid went on to win emphatically in extra time.
Atleti and Madrid were paired together in the last eight in 2014-15 and again Los Blancos went through, this time with a last-minute goal from Javier Hernandez following 180 goalless minutes - and only after Arda Turan had been sent off. And then, in Milan last May, Zinedine Zidane's men edged out Simeone's side on penalties in another dramatic defeat for the Rojiblancos.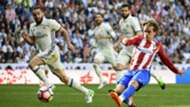 Those results are a stark contrast to the matches in other competitions during the Argentine's time in charge. He has beaten Real several times in La Liga, including three straight successes at the Santiago Bernabeu and a 4-0 win at home, in a Copa del Rey final (also at Madrid's stadium), and in a Spanish Supercopa series.
Ronaldo hits 100th Champions League goal
But, in the Champions League, Madrid always seem to find a way to win, perhaps because their players are more motivated and work harder in the club's favourite competition.
In a semi-final tie, though, Atletico will fancy their chances of success. Madrid, as it is often said, do not lose finals. No matter how Los Blancos perform, they seem to end up with the trophy in their hands. The Rojiblancos, meanwhile, have lost all three of their finals in the European Cup.
So a last-four meeting will suit Simeone's side. The Argentine coach prepares for these ties meticulously and the chance to play Madrid home and away gives Atleti a greater chance of success.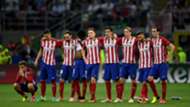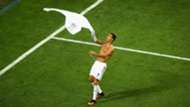 Madrid beat Atletico 3-0 earlier this season at the Vicente Calderon, but Simeone's side have improved dramatically since then and have looked a formidable force in the second half of the season. Just last weekend, they earned a 1-1 draw at the Bernabeu.
Isco: Madrid can win Liga & Champions League
"Maybe it's better to meet Monaco or Real, who will spend significant energy in the fight for the league," Juventus goalkeeper Gianluigi Buffon said ahead of the semi-final draw. "They would rotate less, compared to Atletico, who have a more defined position [in the table] and can manage themselves."
There is some truth in that. Atletico are not likely to challenge for La Liga now, but are in third place, some 11 points clear of Villarreal in fifth. They also face Las Palmas away before meeting Madrid in the first leg - and then Eibar at home prior to the second leg. For Real, meanwhile, there will be no let-up in the race for the title and Zidane's side are at home to Valencia in a tough game just three days before the first leg, and then Granada away before the second match.
So, even though Real possess probably Europe's strongest squad and remain favourites to advance to the showpiece in Cardiff, Atletico will never have a better chance of ending their Madrid hoodoo in the Champions League and making it to a third final in four seasons.