Championship
Aston Villa's Adomah fired up for Second City Derby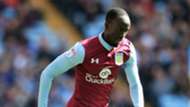 Aston Villa winger Albert Adomah is hoping for better luck when they face Birmingham City in the Second City Derby on Sunday.
The Ghanaian is set for his second taste of the famous clash between the city rivals, 12 months after his first ended on a bad note.
In October last year, the Black Star was substituted after just 25 minutes after a collision with home keeper Tomasz Kuszczak left him injured.
''It's like I'm out for a bit of revenge this time,'' Adomah said, as reported by Express and Star.
''I want to last longer than 25 minutes. That is my target!
''Then if I do I can look forward to the rest of the game. I was a bit disappointed to only last 25 minutes away from home and be substituted. 
"I wasn't happy about that. This season I'm fired up!''
After his first Second City Derby, Adomah's dissatisfaction was not only due to his injury withdrawal.
The two teams also shared the spoils by a 1-1 draw, effectively denying the Claret and Blue Army bragging rights.
''I've got a sense of what it means – it's the bragging rights," Adomah said.
''There are three points on the line, but I know on Monday when people go to work they want to be saying 'We're the best team in the city'.
''Hopefully that team will be Villa.''
If Villa will claim full points on Sunday, a lot will be required of Adomah who has netted five times in nine Championship appearances so far this season.
He sits as the club's joint-top scorer of the campaign thus far.