Asensio
Asensio the best youngster in Europe - Javi Martinez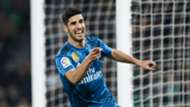 Javi Martinez believes Real Madrid youngster Marco Asensio is the brightest prospect currently playing in Europe.
The 22-year-old is enjoying a breakout year at Santiago Bernabeu, scoring 10 goals and providing five assists in 40 appearances in all competitions.
Asensio's transition into a key player for Real has not surprised his compatriot, who believes that he can become a truly world-class talent.
Speaking exclusively to Goal, the versatile Bayern Munich man said: "For me he is the biggest young talent in Europe.
"It's amazing to watch him. And the most important thing is that, in big games, he always shows the best side of himself.
"So, I think we've seen it already this year, but in the next year he will become, for me, one of the best in the world or maybe the best. It depends on him."
Asensio is currently with the Spain squad, and played just over half-an-hour in the 1-1 friendly draw with Germany last week.
Martinez, however, was omitted from Julen Lopetegui's latest squad, having last played for his country in the 2014 World Cup defeat to Chile.
The 29-year-old was a member of La Roja's 2010 World Cup winning squad, and he has vowed to do everything he can to make his way back into the selection for the tournament in Russia, after overcoming a number of injury woes.
"I know that it's very difficult to get there, there are such good players in every position, and in mine, of course." Martinez, who can play in defence and midfield, replied when asked about making the squad.
"It's true that many of my team-mates or our staff are surprised about it. They always ask me: 'How can that be?' And I say: 'I don't know'. Of course, it's one of my biggest goals to go there and I will fight very hard to try to get it.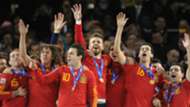 "But it's football. If I don't go to the World Cup, I cannot give up. I will fight harder to try to be selected again. That's important, to always keep working, when things are going well and when they are not."
Martinez has not spoken with Lopetegui about his omission, but he insists he holds no ill will towards the former Porto boss.
"Every player who has expectations to go to the national team and is not called is disappointed," he added. "But you can handle that in two ways. You can say: 'F**k, maybe this coach has no idea'. Or you can do what I do.
"[I think] maybe I can do better, maybe I can work harder, maybe I can show him I am prepared to be in that team.
"That's how I focus and how I handle it. Try go get better, to work harder and try to convince him to call me to the national team."
When asked about holding talks with the manager, he added: "I think he never talks to the players who are not in the squad. He has not called me so I don't know. He never does it with any player."