Southampton
Armstrong has no regrets over swapping Celtic for Southampton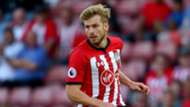 Former Celtic midfielder Stuart Armstrong is happy with his move to Southampton despite the team's poor form and his lack of first-team starts.
The Scotland international joined Victor Wanyama, Fraser Forster and Virgil van Dijk in a growing list of players who have swapped Celtic Park for St Mary's in recent years.
But he has yet to have the same kind of impact after starting just twice in the Premier League and failing to score.
Southampton are also struggling in 17th place in the table after a poor start to the season, but Armstrong insists he does not regret his move to England.
"As an individual I wanted something new, a new challenge, and if I hadn't taken that opportunity I would have regretted it," Armstrong told the Daily Echo .
"I wouldn't say I miss Scottish football. I had my time here. I was very grateful for it and had a lot of nice memories.
"It's always hard when you're not playing games, not starting games especially, because nobody likes sitting on the bench
"I'm not the most patient. I need to learn to adapt. I'm in a different league - I spent eight years in the Scottish League."
Armstrong pondered the thought of staying at Celtic but decided that he could not turn down his dream move to the Premier League.
He added: "I would say it's a different type of challenge. If I'd stayed at Celtic and continued to have success I'd view my career when it finished as a very good one and a very successful one.
"I think each individual is different, they'll have their own desires and want to have their own experiences. I grew up watching a lot of Premier League - it's something I dreamed about as a young player.
"That was my own interest and something I'm very happy to be experiencing right now."