Serie A
'Apocalyptic' – Ex-Cagliari keeper describes surviving Genoa bridge collapse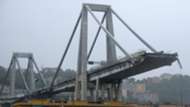 Former Cagliari goalkeeper Davide Capello survived a 30-metre drop during the Genoa bridge collapse, it has been confirmed.
The Ponte Morandi fell around 11:30 local time on Tuesday amid a torrential downpour, with eyewitnesses also claiming lightning hit the bridge. Engineers, however, say lightning is unlikely to have caused the collapse.
Rescuers are still trying to free people caught in the rubble amid fears that other parts of the bridge could come down, which prompted an evacuation of buildings in the area, while early claims suggest around 35 people have already been reported dead.
Capello, a former Italy Under-20 international, fell from the bridge in his car as it crumbled, but survived. Speaking to SkyTG24 in the wake of the disaster, the 33-year-old described the ordeal as 'apocalyptic'.
"I was driving to Genoa, I was on the bridge," Capello, who now works as a fireman, said.
"I heard a noise and then it all collapsed. My car fell 30 metres and got stuck in the rubble. Some people helped me to get out.
"I still don't understand how my car wasn't crushed. It was shocking.
"It's incredible that I'm still alive. It's a miracle. – I don't have a single scratch. 
"It was an apocalyptic scene."
Italy defender Domenico Criscito, currently a Genoa player, also spoke after the disaster, revealing that he had been driving on the bridge a mere 10 minutes before it fell and has called for something to be done in terms of health and safety, labelling the catastrophe 'disgusting'.