Australia
'12 months in the making' - Ange Postecoglou reveals why he quit as Socceroos coach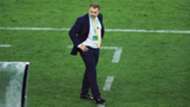 It was an exit that didn't come as much of a surprise after months of media speculation, but Ange Postecoglou's decision to step down as Socceroos coach had far deeper roots.
After a less than simple World Cup qualification campaign which only saw Australia seal its spot in Russia after a play-off win over Honduras, the now Yokohama F.Marinos coach opted to resign following four years at the helm.
While media criticism of his tactics was singled out as one potential reason for Postecoglou's decision, the man himself has revealed it was a far more personal choice that had been coming for a long time.
"It was probably 12 months in the making and in the final six months of qualification I was pretty much resigned to it," Postecoglou told BBC World Football.
"Towards the tail-end of qualifying, just before the Confederations Cup, I got the sense that I was becoming more frustrated with aspects of what I was doing than enjoying it.
"Through qualifying it was a bit of a grind to be fair. I just felt I wasn't making the inroads and impressions I wanted to.
"The conversations at the end of the day...people all they really cared about was to qualify. I just felt a sense of failure in the fact the conversation went back to that rather than us growing as a nation.
"I knew that once the role was done it was time for me to move on and allow the team to continue to grow and go to the World Cup with a different sort of voice in their head."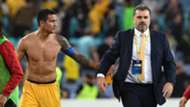 Though his time in charge ended on a far more stressful note than he would've liked, the 52-year-old admitted finally clinching World Cup qualification against Honduras nearly resulted in a change of heart.
"It was a tough night," he said.
"Internally there was a lot of self satisfaction. You create a bond with the players and I wanted them to be happy, but I was thinking this is probably the last time I'll get to work with them.
"I had a few drinks and with every drink I kept thinking, 'Oh, maybe I should just go to the World Cup, because you enjoy working with people and see people having success' and I wanted to be part of that."