Friendlies
Andile Ncobo told to stop talking publicly about Safa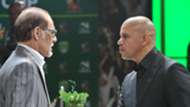 In a shocking announcement, former Fifa referee Andile Ncobo said he is told to stop making comments about the South African Football Association.
Ncobo took to Twitter and said his security advisors have told him to refrain from making public statements about Safa.
The ex-Premier Soccer League general manager has been vocal and critical of the country's FA and its president, Danny Jordaan and the football associations especially in the build-up to the cancelled election.
However, he announced the advice he received and apologised to his Twitter followers, saying he is told to refrain from talking about Safa matters in public.
"I'm sorry but I've been advised that due security risk I should refrain from talking about these matters until further notice. (I) will be back," he said on Twitter.
Moreover, his advisers have also asked him to stop making comments about the postponed elections with immediate effect.
Ncobo has been involved in a fierce public battle with Safa boss over the embattled sports organisation's highly disputed elective conference that was supposed to have taken place last weekend.
The former whistle man previously announced that he was receiving death threats just weeks before the put on hold Safa presidential election.
Although, Safa announced last week that Jordaan will stand uncontested for the election after fellow candidate Ncobo pulled out of the race, Safa later announced that the elective congress will not take place this past weekend and will be held at later date which is yet to be announced.
The election was postponed last week following an emergency NEC meeting that mandated Safa to address issues that could undermine the credibility of the congress. 
However, it is reported that the former school principal's advisers have ordered him to stop making comments about the postponed election with immediate effect.
I'm sorry but I've been advised that due security risk I should refrain from talking about these matters until further notice.Will be back
— Ace Ncobo - Spot On (@AceNcobo) March 26, 2018