Malaysia Cup
Amirulhadi admits it was a collective failing rather than an individual one against Selangor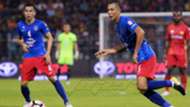 The loss to Selangor in the Malaysia Cup in Round 3 of the group stage was the first for Johor Darul Ta'zim (JDT) since their exit from the 2017 AFC Cup back in May. In a twist of fate, both defeats had a similar outlook about it.
A poor first half that followed by an improved second half performance. To cap it off, the concession of the last minute penalty to the opposition would bring back harsh memories for the players and fans.
Concentration towards the end of matches has been a problem for the Southern Tigers, and it is something which has crossed over from Benjamin Mora's time to Ulisses Morais. Apart from the aforementioned Ceres-Negros match, JDT has also conceded late against Melaka United, other than this Selangor match.
Amirulhadi Zainal returned from his suspension at the weekend to start this match and he was paired alongside Afiq Fazail and Nazmi Faiz. The trio were finding it hard to cope with the Selangor midfield in the first half but with better outlets available when Gabriel Guerra and Gonzalo Cabrera were introduced after the break, they looked a different team in the second half.
"We cannot put the blame on anyone for the defeat. We play as a team so we have to accept this. We committed mistakes and that gave the opponent the chance. Although we tried to come back, we just need to concentrate more game by game," said Amirulhadi to Goal after the match.
Nazmi, one of many players who were selected by Morais as the Portuguese chop and changed his team from the one that beat Sarawak last Satuday. However, the experiment did not work out quite as well one he would have hoped.
Amirulhadi admitted that it is hard to player to get into top form when they hardly get any playing time and the lack of understanding as well as rustiness comes into effect during matches. However, the 31-year-old midfielder is keen to point out that the selection does not mean that the Malaysia Cup is less of a priority for the team.
"There are some players who doesn't get to play a lot of games. A little bit, there's an effect on our performance. For us, the Malaysia Cup is also important. It's not that we just focus on the Super League. We don't take the competition lightly," he added. 
Amirulhadi and his team mate traveled back to Johor Bahru immediately after the match at Selayang Stadium where they would prepare, before another away trip awaits them, this time to T-Team on Saturday.