Liga MX
America vs. Pumas headline Liga MX quarterfinals, but can teams deliver on expectations?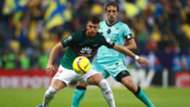 For the second tournament in a row, there's a matchup between two Mexico City sides that will capture most of the attention in the first round. Let's hope it's better than last season.
This year it's Club America and Pumas meeting in the first round of the playoffs after the Apertura's meeting between America and Cruz Azul. That contest resulted in a pair of scoreless matches with America moving on thanks to being the better team during the regular season.
Las Aguilas summarily defeated Tigres 4-0 on aggregate in the next leg and went into the offseason seeking reinforcements. Those players arrived with Jeremy Menez, Andres Ibarguen and Henry Martin boosting the attack - at least initially. America fell in love with draws in the middle of the Clausura but ended up finishing second thanks to a 1-0 victory over Santos Laguna on Sunday.
In some respects, the teams don't owe the fans anything. Their job is to advance. America manager Miguel Herrera wasn't exactly pleased with how they advanced last time, though. And even if it's not pragmatic, soccer players are entertainers. There was hardly any spectacle in the America-Cruz Azul game other than keeping track of how many minutes until the match would end and wondering if there would ever be a goal.
While America need to be better than last season if it wants to have any chance of reaching the final and carrying out its goal of winning a league-record 13th title, it's on Pumas to inject drama in the series. The team has, at times this season, been thrilling to watch. At other times, like the majority of Sunday, it has been boring.
Pumas manager David Patino claimed this is a matchup his team was looking forward to. After a white-knuckle draw with Queretaro on Sunday clinched qualification, he said his team was hoping for more but was getting ready for a quick turnaround against their crosstown rivals.
"For us the prize, despite the fact we wanted to win (today) is that the tie means we're facing America and it's a Clasico for both teams," he said. "That's very attractive and we want to win. We're already getting prepared for this match with the intention of playing well, taking advantage of the opportunity and winning."
It's not out of the question for Pumas to spring an upset, but they'll have to be better than they were this weekend and do it against a better team. America has been inconsistent but had its long undefeated run ended by a Toluca team that was in the midst of streak that would swell to nine consecutive victories. Defensively, America has been tough to beat, though the goals still aren't coming with as much frequency as they needed to, for example, get out of the CONCACAF Champions League semifinal or avoid a loss to Puebla.
Pumas back line is shaky, and the attack still, after several tournaments of having the same issue, is overly reliant on Chilean forward Nicolas Castillo. It was forward Matias Alustiza who scored Sunday, and how he performs over the two legs will go a long way toward deciding whether or not we have a series that brings us joy or another drab clash in the capital.
There could be drama in one of the other series as well, though there's not one that pops out as a must-watch. Toluca and Monarcas Morelia will be locked in a tactical battle between two of the league's savviest managers in Hernan Cristante and Roberto Hernandez. Monterrey, whose 30 goals scored this tournament are more than any other team, meets Tijuana, whose 12 goals allowed in the Clausura are the fewest.
There's a fair bit of intrigue as well with the series between Santos Laguna and Tigres. Santos come into the postseason having lost three straight but still feel this may be their tournament. Tigres, the reigning champions, haven't lost at home in league play in more than a year, but managing the margin in the first leg will be crucial. The teams may not be direct rivals, or at least Tigres won't feel like they are, but both are in the north where there's no small amount of hard feelings between teams that are nearly neighbors.
Perhaps one of those series steals away our attention, as the thrilling quarterfinal between Toluca and Monarcas did last year, or maybe Pumas puts a bit of flavor into the Clasico Capitalino. It's the fiesta grande, the big party, and even if not all the invitees have charisma and verve, it's going to be a good time.