Premier League
Morata: Chelsea suffered together at Tottenham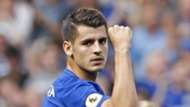 Alvaro Morata has hailed a great defensive display as Chelsea were dominated but still ran out as 2-1 winners against Tottenham at Wembley Stadium. 
Blues 5/4 to beat Everton to nil
Marcos Alonso's brace cancelled out a Michy Batshuayi own goal as Morata won in his first start since his £68 million move from Real Madrid earlier in the summer. 
Spurs had twice as many shots as Chelsea and 67.5 per cent possession against their rivals but the 24-year-old frontman hailed the fight shown by Antonio Conte's side. 
"It was a match where I did what the coach asked," Morata said at Wembley Stadium. "Fight and close spaces. We suffered all together but we won the three points"
"Today, I fought with the centre-backs. He [Conte] said that we had to win today, that was the most important, but to take three points here is not easy. Here [in England] you can't stop to rest or think with the ball. The game is all very fast and different."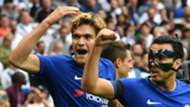 Chelsea welcome Everton to Stamford Bridge in their next match before the international break, during which Spain will face Italy and Liechtenstein in World Cup qualifying.
Morata was impressed by the Spain team-mates who play alongside him at Chelsea, but he reserved special praise for the match-winner, saying the uncapped Alonso should be called up for Julen Lopetegui's next national team selection.
"Hopefully all the [Chelsea players] are possible call-ups," he said when asked about his team-mate's chances. "There are many here who deserve it. First, I have to think for myself, because I don't know if I will be [called up].
"And then all players are possible — especially Marcos [Alonso], who has made a nice game."