Manchester United
All furniture and no foundations, but is Mourinho or the board to blame for Man Utd's house falling down?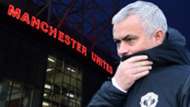 Jose Mourinho might still be living out of a city centre hotel two-and-a-half years into his tenure as Manchester United manager, but his virtual house is close to falling down from what he was saying on Friday.
"A football team is like a house, too, a house is not just about buying the furniture,"  he said in his press conference previewing Sunday's clash with Liverpool at Anfield . "You have to do work in the house and when the house is ready, then you buy the furniture, you spend money on the best possible furniture and then you are ready to live in an amazing house."
Whereas Liverpool spent big in 2018 to bring in the likes of Virgil van Dijk, Alisson Becker, Naby Keita, Xherdan Shaqiri and Fabinho, Mourinho was left frustrated by his club's refusal to invest in another centre-back to help repair the foundations of his side which are currently coming apart at the seams.
While United seemingly have plenty of attacking luxury at hand in the likes of Alexis Sanchez, Paul Pogba, Romelu Lukaku, Anthony Martial and Marcus Rashford, the truth of the matter is that there is very little structural integrity about this squad going into the Christmas break.
Mourinho has been unable to get a tune out of too many of his best players this term, and United head to Merseyside trailing Liverpool by 16 points in the table after 16 matches for the first time in 29 years.
And although Jose's house metaphor was clearly also a dig at a Liverpool side who have yet to gain a trophy to match their expressive attacking football under Jurgen Klopp, it is United who are on rockiest ground right now.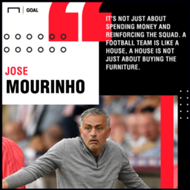 After their 2-1 Champions League reverse to Valencia in midweek which denied them first place in Group H and a potentially softer draw in the first knockout round, Mourinho made it known that he trusts almost nobody in his first-team squad as things stand.
"Nothing that happened surprised me at all," he said after the game in Spain. "I didn't learn anything from this game.
"I expect better from my players, especially players that week in, week out, you ask me 'why don't they play?' 'Why they don't they start?'
"It was a good match to play, a match without any kind of pressure, a match in a competition that everybody likes to play. And in the end, my team improved when I made the changes that I didn't want to make."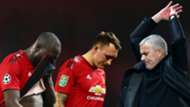 What he was basically saying was that he didn't trust the players he picked to turn in a performance, and he was proven right with their display at Mestalla. And after adding that only David de Gea and Nemanja Matic of those who didn't travel were rested, one has to wonder who Mourinho trusts in his entire playing armoury.
Beyond De Gea and Matic, the three men he hoped to rest but eventually brought on on Wednesday – Ashley Young, Jesse Lingard and Rashford – are among those he can usually reply upon. But beyond that all bets are seemingly off.
Juan Mata sometimes, maybe? Ander Herrera, under particular circumstances when an extra defensive midfield body is needed? Marouane Fellaini when it comes to the last 10 minutes with a game to chase?
Pogba is approaching persona non grata status with Mourinho after another shoddy performance, while Sanchez was being left out regularly long before being sidelined by a hamstring injury. 
Lukaku's difficult run in front of goal prompted a spell out of the side, and it was noticeable that he was hooked with United needing two goals in the final 20 minutes on Wednesday.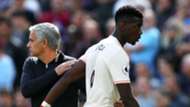 So Mourinho is in a fix. He has a squad full of players that he can't seem to get the best out of and apparently cannot put his faith in, while the board may be no more willing to invest in the January market than they were in the summer when he identified the centre of defence as a continued weakness.
And if Mourinho's observations about the club's structure are true, then buying their way out of their current malaise may not even be an option.
All the while, he is putting noses out of joint here, there and everywhere. His handling of Pogba and club skipper Antonio Valencia – among others – has hampered their form to various degrees rather than injecting it with a new edge, while he continues to blast his players in public and send sly digs at the boardroom in a quest to rid himself of any blame for the situation.
United have built several extensions on the front of their house in recent transfer windows but there is no roof to shield them round the back, and if Mourinho cannot find a way to bodge up the gaping holes then the board will eventually reach the point where they have to get somebody else in to fix it.
Mourinho needs to get his house in order - and quick.