Indian Super League
Quess East Bengal's Ajit Isaac - ISL has potential to become an outstanding league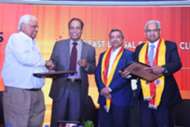 ---
EXCLUSIVE | BY SWAPNANEEL PARASAR  

  Follow @Swapyo on Twitter
---
The 98-year-old Kolkata club, East Bengal, got a fresh lease of life earlier this month when Quess Corp acquired a 70 per cent stake in its football team. East Bengal have been part of the I-League since its inception and it is not surprising to see that the club will look to be a part of the Indian Super League (ISL) in the near future, given the financial boost they have received. 

Ajit Isaac, Chairman and Managing Director of Quess Corp, the parent company of Quess East Bengal Football Club (QEBFC) Pvt. Ltd, spoke to Goal about what the potential entry into the ISL would mean for both the club and the company.
 
"Quess as a company is moving from being a business services provider to being a platform that connects with a large number of customers and consumers. The need to develop and execute a branding initiative is very necessary for us and sport is the medium to reach a unified constituency that resembles the type of people that we are dealing with. That is really the strategy and looking at a sports-related initiative is the first one," Isaac explained why the decade-old firm chose to invest in East Bengal.

"It's coincidental that we were exploring options in football and about the same time the club reached out to us because the previous sponsors (UB Group) were reconsidering. So, it all worked out," he revealed how the deal saw the light of the day.
The 51-year-old laid down his marker straight in terms of his vision for the club, indicating a jump into the ISL. He said, "To play in the league which has the best level of competition, viewership and in terms of branding would be outlook and desire of the club and whenever it happens, we would be happy for it.

"We want to give the best to our fans. We want to ensure they have an engagement with us that revolves around sporting activity and be a part of the winning culture the club wants to create. The ISL, if it happens, it happens. Otherwise, we want to build the club in any case."


He heaped praise on the ISL, merely a four-season-old league and hoped that it emerges to be a more superior brand in the future. "ISL is an interesting format. It has got potential and has done well for itself in the last few years and it could be the premium platform if developed in the right manner and with the right input. It has the potential to become an outstanding league," he opined.
Quess Corp have put in an initial investment of ₹10 Crores into QEBFC and are ready to further the funding through both organic and revenue-based streams. Isaac shared, "We've backed our companies wherever we have invested to ensure that they attain their business and commercial goals.
"We've put in 10 Crores for 70 per cent of the company right now. We obviously will have sponsorships that come in and when necessary, we're open to new methods of capital-raising should it be necessary."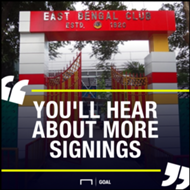 Isaac also discussed how Quess East Bengal could market itself better and how to build revenue. He envisaged, "There is a lot of opportunities to build on merchandise, using the brand for other formats of the service industry that we could take a look at in the future. It is a bit too early but these are typically activities that clubs have done in the past. I see no reasons why East Bengal or any other footballing clubs in
India
should not pursue it."
Kolkata-based ISL side
ATK
have a venue-exclusivity clause for the first five seasons and that might prompt East Bengal to shift bases if their entry is approved for the 2018-19 season. According to sources, Football Sports Development Limited (FSDL), organisers of the ISL had recently sent a team to recce the Kanchenjunga Stadium in Siliguri, a city in northern West Bengal.
While East Bengal are no strangers to Siliguri having played many games there and have a massive fan-following there, Isaac remained coy on the development with entry into the ISL yet to be confirmed. "We haven't considered such options at this point. It's very premature to look at options of which base we will play from without even being in the ISL. It is important that we take this one step at a time," he replied.
The 
Red and Golds
recently wrapped up the big-name signing of Johnny Acosta, a defender who turned out for
Costa Rica
in the recently concluded 2018 World Cup in
Russia
. Isaac though believed more in the team effort but does understand the need for star-studded arrivals to keep the fans excited.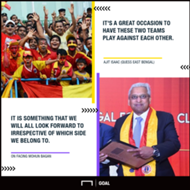 "For fans, two things are important. One is marquee names that they can rally around and create an identity. The second is the winning culture of the club and we want to focus on this as much as we can in terms of developing with what we have got. I think you will hear about more signings in the future," he divulged.
Finally, East Bengal's traditional rivals
Mohun Bagan
appear to be in an administrative soup and seem unlikely to launch a bid to join the ISL this season. Isaac took into cognizance the significance of the Kolkata derby for the fans and only hoped that the prospective divide in leagues (if it happens) does not keep fans from enjoying the biggest match in the domestic calendar. 
"It's a great occasion to have these two teams play against each other. It's a true sporting encounter on any occasion and in any format. It is something that we will all look forward to irrespective of which side we belong to. So, if it does happen (both teams into the ISL), it is great," he signed off.