Simba
Aishi Manula reveals Simba plans
Aishi Manula reveals Simba plans
Manula has revealed that his team has the ambition to win every game in order to win the league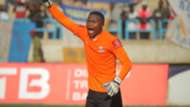 Simba and Taifa Stars Goalkeeper, Aishi Manula has revealed that his team has the ambition to win every game in order to win the league title this season.
Speaking after their 1-0 triumph against Mtibwa Sugar on Monday, Manula said that each game is important for them and they are looking forward to winning nearly every game, something that will guarantee them the Premier League crown for the first time after five season. 
"Everybody in the squad knows about our plan that is to win every game, we will fight until the end of the season in order to get back our past glory" said Manula.
Manula added that he dedicates the Mtibwa Sugar victory to his late brother who was a die hard Simba fan.
With eight games remaining, Simba lead the table with 52 points, six ahead of their arch rivals Yanga who will welcome Singida United on Wednesday.