Malaysia
Air Asia looking to collaborate with FAM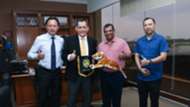 FAM revealed that they have started talks with Tony Fernandes, the CEO of Air Asia on the possibility of a working partnership in the near future.
Fernandes met with Datuk Hamidin Mohd Amin at the Kelana Jaya headquarters on Monday where the former express interest in providing assistance not limited to referee, national team and youth development.
The charismatic Fernandes is the majority shareholder at English club Queens Park Rangers FC and his company Air Asia logo can also be seen appearing on the sleeves of match officials in the English Premier League.
In Malaysia, Fernandes also kickstarted the football club Petaling Jaya Rangers FC who are currently plying their trade in the third tier of Malaysian football in the FAM Cup.
With his involvement at QPR, FAM have benefited previously by having attachment stints with the duo of Datuk Ong Kim Swee and Brad Maloney spending time in England last year.
A similar arrangement could happen with regards to the referee attire as well as possible experts being brough over from QPR to provide training and assistance to the organisation.