Aidil Sahak
Aidil Sharin merits serious consideration for the post of national team coach after AFC Cup glory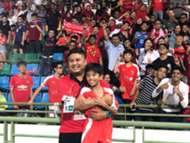 When Sundram stepped down from his position as national team head coach, FAS (Football Association of Singapore) begun shortlisting potential candidates for his replacement. One of the names that appeared on the shortlist was Home United's Aidil Sharin.
In the end we all knew how things panned out with Young Lions coach, Fandi Ahmad being given the job though on an interim basis. While Fandi will be assessed on his performance in the AFF Suzuki Cup in November, there is no doubt FAS will be keeping one eye on Aidil especially after he led his side to AFC Cup glory.
Moreover the 40-year-old created history as The Protectors became the first Singapore side to win the AFC Cup Asean zone under his watchful eye. But I was not too surprised by his achievements to be frank. When I interviewed him a few months back before his AFC Cup success I was awed by his footballing philosophy and here was a coach who had a very distinct and clear vision of how he wants his team to function.
Additionally Aidil is a coach that wants to win. He once mentioned how in each game he never settles for a draw believing that is a cardinal sin in football. Attack was the natural order of the day for him and it showed when they played Ceres Negros in the AFC Cup. All of this despite his team having an away goal advantage in the second leg.
Resting on one's laurel is something that does not appear in his dictionary. On the other hand, his penchant for blooding youngsters is admirable. Singapore football has for long periods relied on the yesteryears to promote the game. At Home youngsters like Amiruldin Asraf and Iqram Rifqi have all managed to earn playing time proving that in Aidil's world, age is no barrier.
Tactically he is very adept too. When Sundram was national team coach, fans often criticised him for his one-dimensional approach; conservative methods. Even Fandi has not been spared from criticisms of being tactically inept. Aidil has proven time and time again how he is able to tweak his tactics to suit the nature of the game. But what makes it special is that he rarely sacrifices his footballing principles; which is to play attacking football.
Should Fandi fail to deliver the goods come November, FAS might want to start looking closer to 'Home' for a solution to their coaching dilemma.