KPL
AFC Leopards refute claims of 'takeover', set elections date in mid 2019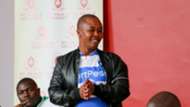 AFC Leopards have refuted claims that the club is under a new management.
On Thursday, a group led by the former interim chairman, Mathews Opwora and Noah Wanyama, father to Harambee Stars and Tottenham Hotspur midfielder, Victor Wanyama announced that they have taken over the club, on a temporary basis for the next three months.
The purported takeover, according to Opwora, arose after the current office, led by Dan Mule 'failed to hold elections' as directed by the Sports Registrar.
But in a rejoined, AFC Leopards rubbished the allegations. "We wish to assure members/fans that the National Executive Committee club remains intact despite the purported takeover by certain criminal elements."
Ingwe claims that Opwora's group are acting on bad faith adding that they are not paid up members of the club, further terming them as 'busy-bodies'. "We wish to inform members of the public not to be duped by the self-seekers."
Mule's regime has since set the election date for mid-2019: "Take note that the next elections will be held in June 2019 in line with the club's constitution."