World Cup
Academy View – Monrovia Football Academy at the 2018 FIFA World Cup
William H. Smith & Sekou D. Manubah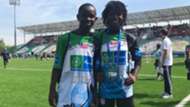 Monrovia Football Academy is in Moscow, Russia for the 2018 FIFA World Cup! From June 8-15, two of the Academy's student-athletes – Zeta Kromah and Sao Jackson – are participating in the 2018 'Football for Friendship' program. With children from 211 countries represented, the Football for Friendship program is displaying the power of football to convene, Inspire, and unite.
As Liberia's 'young footballer' representative, Sao Jackson is playing for the Galapagos Sea Lions team in the Football for Friendship World Championship. Matches are 7 vs. 7, and Sao has the opportunity to showcase his ability with teammates from six different countries, including Cyprus, Bangladesh, China, Turkey, Caicos Island, and Anguilla.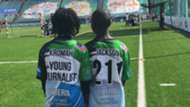 While Sao tests his luck on the pitch, Zeta Kromah is reporting on the young footballers' performance as Liberia's 'young journalist' representative. As one of Monrovia Football Academy's brightest student-athletes, Zeta is impressing her peers and the organizers of the program with her curiosity, writing skills, and intellect.
Beyond their official duties, Sao and Zeta have plenty of time for fun, too! They have met famous footballers and celebrities, and on Thursday, June 14, they will attend the opening match of the 2018 FIFA World Cup.
During their downtime, Sao and Zeta are connecting with other children from all over the planet. They are learning about other traditions, cultures, and ways of life, and they're discovering that they and their new friends share a common passion – football – and, in turn, a common set of values. Here, in real time, they are discovering the true power of sport.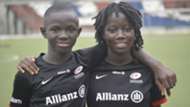 This type of trip is a key ingredient in Monrovia Football Academy's recipe for leadership development. Zeta and Sao will leave Moscow with a lifetime worth of memories and experiences. They will return to Monrovia inspired, ready to push forward and challenge their classmates to do more. Most importantly, they will step back into the Academy's classrooms and onto the Academy's pitch with a deeper understanding that hard work, determination, and resilience pays off.
The spectacle of the World Cup is expanding Zeta and Sao's horizons. From here, there's no telling how far they can go. The sky is truly the limit.