Aaron Mooy
Aaron Mooy: I didn't think I'd be able to get back to Europe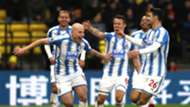 Age is always on the mind of any footballer. Whether it's suggesting they're too young and inexperienced or too old and fragile, the number means a lot in the world of football.
Socceroos and Huddersfield midfielder Aaron Mooy is arguably in his prime right now at 27 and has impressed in his first season in the English Premier League.
But the former Western Sydney Wanderer had serious doubts he'd ever return to Europe and play at such a high level again after returning to Australia in 2012.
Having headed to Europe as a teenager, Mooy linked up with Bolton's youth academy before joining Scottish club St Mirren in 2010.
After making 21 appearances over two seasons, the central midfielder who had struggled with an injury in the second year there, opted to take up an offer from Tony Popovic and become one of the Wanderers first signings.
Mooy spent three years in red and black but had his career really take off after joining Melbourne City in 2014 which saw him signed by parent club Manchester City two years later.
While he's now playing a crucial role for Huddersfield, Mooy admitted when he was back playing in Australia he thought time was against him in his quest to make it back to Europe. 
"There was a time when I was playing in the A-League and I thought I was getting a bit old," Mooy told The World Game . 
"Clubs in Europe wouldn't really be looking at a player who is 25 to bring over as they usually take the younger kids that they can develop.
"I didn't think I'd be able to get back to Europe – never mind the Premier League.
"When I was younger in the A-League I still believed I could get back to Europe, and step by step I've got as far as I have."
Mooy will face fellow Aussie Mat Ryan in a crucial Premier League game on Saturday with both Huddersfield and Brighton desperate to avoid relegation.