Rangers
'A shameless buffoon!' - Barton ridiculed for Messi & Neymar claims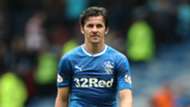 Joey Barton is never far from headlines and, while many appreciate his honesty and forthright views, his latest outlandish comments have not gone down well.
Barton - Press compared me to Barca stars
Barton's short-lived spell in Glasgow with Rangers ended last month after a training ground bust-up, but he was keen to have his say, blaming the Scottish press for expecting too much from him.
He claims, though, that he was compared to Barcelona superstars Lionel Messi and Neymar by the Scottish media were brutally ridiculed on social media.
So Joey Barton claims Scottish media built him up to be a Messi or Neymar! Aye they once built me up to be Elvis Presley! Right ye are fella

— ally begg (@ally_begg) December 8, 2016
Barton was built up to be Messi or Neymar
I love starting the day wi a smile but ,,,,

— Ian Chalmers (@chalmers53) December 8, 2016
Hahaha I just read joey Barton said rangers built him upto be this neymar, messi kind of player bet he defo didn't get his higher english

— Deborah Barbour (@DeborahBarbour2) December 7, 2016
Feeling a bit embarrassed about that time all us hacks took crystal meth and compared Joey Barton to Messi and Neymar.

— Michael Gannon (@MichaelGannon) December 7, 2016
Joey Barton done lost his damn mind....Messi?? Really?? https://t.co/FPXfcOlMHX

— The King's Hand (@9jabadtguy3) December 8, 2016
@ballsdotie hahaha Barton up there with Messi and Neymar - thanks for that - thats the laugh of the week for sure.

— Paul Collins (@pjmcollins20161) December 7, 2016
The closest joey Barton got to being like messi was when he got the gold card on FIFA ultimate team of him..messi more like Nessie

— Michael (@Zlatan_79) December 7, 2016
Joey Barton saying "I'm no Lionel Messi" is pretty much the definition of unarguable truth. A shameless buffoon. https://t.co/VAECBHxMDI

— Robin Murray (@ClashRobin) December 7, 2016
Has Joey Barton compared himself to Neymar and Messi???? Ffs.

— South Stand Stu (@Dale_blue2) December 7, 2016
@BBCSportsound @BBCSport Utterly delusional! I'd love to see these articles comparing him to Naymar and Messi - they don't exist! #barton

— Peter Ford (@pfsalop) December 7, 2016