A-League
A-League 2018-19 full draw, fixtures, games: Blockbusters headline announcement, Melbourne Victory's nightmare run home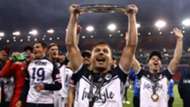 The 2018-19 A-League campaign will begin with a bang after Football Federation Australia scheduled several blockbuster matches to start the season.
Marvel Stadium, formerly known as Etihad Stadium, will host a Melbourne derby between Victory and City on the Saturday of the opening weekend, with the season kicking off in Adelaide as the Reds welcome Sydney FC at Coopers Stadium on Friday October 19.
New Perth Glory coach Tony Popovic will face a baptism of fire in the opening round as his former club Western Sydney Wanderers visits nib Stadium.
Round two will see the first Sydney derby between the Sky Blues and the Wanderers at the Sydney Cricket Ground, while the third round features the grand final rematch as Newcastle Jets seek revenge against Victory at McDonald Jones Stadium.
Jubilee Oval at Kogarah is the venue for the first Big Blue between Sydney FC and Victory in round five, with the Sky Blues also playing two home matches at Leichhardt Oval.
Both the league's big derbies will have their second editions close to Christmas with the Sydney version in round eight on December 15, while the traditional Melbourne duel will be in round nine on December 22.
The later start to the season accommodates the FIFA break in early October, while the league stops again for another set of international matches in mid-November and late March.
The summer of football returns in the January school holidays with 30 matches played between the 2nd and 27th of the first month of the year.
Champions Melbourne Victory face a nightmare finish to the season with four of their last five games away from home - against Perth, Sydney FC, Adelaide and Western Sydney - and also two Asian Champions League match days sandwiched in between.
| A-LEAGUE | FIXTURES 2018-19 |   |   |   |   |
| --- | --- | --- | --- | --- | --- |
| Round 1 |   |   |   |   |   |
| DATE | HOME | AWAY | VENUE | Kick-Off(Local) | Kick-Off(AEDT) |
| Friday, 19 October 2018 | Adelaide United | Sydney FC | Coopers Stadium | 07:20PM | 07:50PM |
| Saturday, 20 October 2018 | Melbourne Victory | Melbourne City FC | Marvel Stadium | 07:50PM | 07:50PM |
| Sunday, 21 October 2018 | Wellington Phoenix | Newcastle Jets | Westpac Stadium | 05:00PM | 03:00PM |
| Sunday, 21 October 2018 | Brisbane Roar FC | Central Coast Mariners | Suncorp Stadium | 04:00PM | 05:00PM |
| Sunday, 21 October 2018 | Perth Glory | Western Sydney Wanderers FC | nib Stadium | 04:00PM | 07:00PM |
| Round 2 |   |   |   |   |   |
| DATE | HOME | AWAY | VENUE | Kick-Off(Local) | Kick-Off(AEDT) |
| Friday, 26 October 2018 | Adelaide United | Newcastle Jets | Coopers Stadium | 07:20PM | 07:50PM |
| Saturday, 27 October 2018 | Central Coast Mariners | Melbourne City FC | Central Coast Stadium | 05:35PM | 05:35PM |
| Saturday, 27 October 2018 | Sydney FC | Western Sydney Wanderers FC | Sydney Cricket Ground | 07:50PM | 07:50PM |
| Sunday, 28 October 2018 | Brisbane Roar FC | Wellington Phoenix | Suncorp Stadium | 04:00PM | 05:00PM |
| Sunday, 28 October 2018 | Melbourne Victory | Perth Glory | AAMI Park | 07:00PM | 07:00PM |
| Round 3 |   |   |   |   |   |
| DATE | HOME | AWAY | VENUE | Kick-Off(Local) | Kick-Off(AEDT) |
| Friday, 2 November 2018 | Melbourne City FC | Sydney FC | AAMI Park | 07:50PM | 07:50PM |
| Saturday, 3 November 2018 | Wellington Phoenix | Western Sydney Wanderers FC | Westpac Stadium | 07:35PM | 05:35PM |
| Saturday, 3 November 2018 | Newcastle Jets | Melbourne Victory | McDonald Jones Stadium | 07:50PM | 07:50PM |
| Saturday, 3 November 2018 | Perth Glory | Brisbane Roar FC | nib Stadium | 07:00PM | 10:00PM |
| Sunday, 4 November 2018 | Central Coast Mariners | Adelaide United | Central Coast Stadium | 05:00PM | 05:00PM |
| Round 4 |   |   |   |   |   |
| DATE | HOME | AWAY | VENUE | Kick-Off(Local) | Kick-Off(AEDT) |
| Friday, 9 November 2018 | Melbourne City FC | Wellington Phoenix | AAMI Park | 07:50PM | 07:50PM |
| Saturday, 10 November 2018 | Western Sydney Wanderers FC | Brisbane Roar FC | Glen Willow Regional Sports Stadium (Mudgee) | 05:35PM | 05:35PM |
| Saturday, 10 November 2018 | Newcastle Jets | Sydney FC | McDonald Jones Stadium | 07:50PM | 07:50PM |
| Sunday, 11 November 2018 | Adelaide United | Perth Glory | Coopers Stadium | 04:30PM | 05:00PM |
| Sunday, 11 November 2018 | Melbourne Victory | Central Coast Mariners | AAMI Park | 07:00PM | 07:00PM |
| 12 - 20 November 2018 | FIFA Break - November |   |   |   |   |
| Round 5 |   |   |   |   |   |
| DATE | HOME | AWAY | VENUE | Kick-Off(Local) | Kick-Off(AEDT) |
| Friday, 23 November 2018 | Western Sydney Wanderers FC | Newcastle Jets | Spotless Stadium | 07:50PM | 07:50PM |
| Saturday, 24 November 2018 | Wellington Phoenix | Adelaide United | Westpac Stadium | 07:35PM | 05:35PM |
| Saturday, 24 November 2018 | Brisbane Roar FC | Melbourne City FC | Suncorp Stadium | 06:50PM | 07:50PM |
| Sunday, 25 November 2018 | Sydney FC | Melbourne Victory | Jubilee Oval | 05:00PM | 05:00PM |
| Sunday, 25 November 2018 | Perth Glory | Central Coast Mariners | nib Stadium | 04:00PM | 07:00PM |
| Round 6 |   |   |   |   |   |
| DATE | HOME | AWAY | VENUE | Kick-Off(Local) | Kick-Off(AEDT) |
| Friday, 30 November 2018 | Adelaide United | Brisbane Roar FC | Coopers Stadium | 07:20PM | 07:50PM |
| Saturday, 1 December 2018 | Central Coast Mariners | Sydney FC | Central Coast Stadium | 05:35PM | 05:35PM |
| Saturday, 1 December 2018 | Melbourne Victory | Western Sydney Wanderers FC | Marvel Stadium | 07:50PM | 07:50PM |
| Sunday, 2 December 2018 | Wellington Phoenix | Perth Glory | Westpac Stadium | 07:00PM | 05:00PM |
| Sunday, 2 December 2018 | Melbourne City FC | Newcastle Jets | AAMI Park | 07:00PM | 07:00PM |
| Round 7 |   |   |   |   |   |
| DATE | HOME | AWAY | VENUE | Kick-Off(Local) | Kick-Off(AEDT) |
| Friday, 7 December 2018 | Western Sydney Wanderers FC | Central Coast Mariners | Spotless Stadium | 07:50PM | 07:50PM |
| Saturday, 8 December 2018 | Sydney FC | Wellington Phoenix | Jubilee Oval | 05:35PM | 05:35PM |
| Saturday, 8 December 2018 | Melbourne Victory | Adelaide United | Marvel Stadium | 07:50PM | 07:50PM |
| Saturday, 8 December 2018 | Perth Glory | Melbourne City FC | nib Stadium | 07:00PM | 10:00PM |
| Sunday, 9 December 2018 | Newcastle Jets | Brisbane Roar FC | McDonald Jones Stadium | 05:00PM | 05:00PM |
| Round 8 |   |   |   |   |   |
| DATE | HOME | AWAY | VENUE | Kick-Off(Local) | Kick-Off(AEDT) |
| Friday, 14 December 2018 | Brisbane Roar FC | Melbourne Victory | Suncorp Stadium | 06:50PM | 07:50PM |
| Saturday, 15 December 2018 | Wellington Phoenix | Central Coast Mariners | Westpac Stadium | 07:35PM | 05:35PM |
| Saturday, 15 December 2018 | Western Sydney Wanderers FC | Sydney FC | ANZ Stadium | 07:50PM | 07:50PM |
| Sunday, 16 December 2018 | Newcastle Jets | Perth Glory | McDonald Jones Stadium | 05:00PM | 05:00PM |
| Sunday, 16 December 2018 | Adelaide United | Melbourne City FC | Coopers Stadium | 06:30PM | 07:00PM |
| Round 9 |   |   |   |   |   |
| DATE | HOME | AWAY | VENUE | Kick-Off(Local) | Kick-Off(AEDT) |
| Friday, 21 December 2018 | Perth Glory | Sydney FC | nib Stadium | 05:30PM | 08:30PM |
| Saturday, 22 December 2018 | Wellington Phoenix | Brisbane Roar FC | Westpac Stadium | 07:35PM | 05:35PM |
| Saturday, 22 December 2018 | Melbourne City FC | Melbourne Victory | AAMI Park | 07:50PM | 07:50PM |
| Sunday, 23 December 2018 | Central Coast Mariners | Newcastle Jets | Central Coast Stadium | 05:00PM | 05:00PM |
| Wednesday, 26 December 2018 | Adelaide United | Western Sydney Wanderers FC | Coopers Stadium | 07:20PM | 07:50PM |
| Round 10 |   |   |   |   |   |
| DATE | HOME | AWAY | VENUE | Kick-Off(Local) | Kick-Off(AEDT) |
| Friday, 28 December 2018 | Melbourne Victory | Wellington Phoenix | AAMI Park | 07:50PM | 07:50PM |
| Saturday, 29 December 2018 | Sydney FC | Brisbane Roar FC | Jubilee Oval | 07:50PM | 07:50PM |
| Sunday, 30 December 2018 | Newcastle Jets | Adelaide United | McDonald Jones Stadium | 07:00PM | 07:00PM |
| Monday, 31 December 2018 | Central Coast Mariners | Perth Glory | Central Coast Stadium | 07:00PM | 07:00PM |
| Tuesday, 1 January 2019 | Western Sydney Wanderers FC | Melbourne City FC | ANZ Stadium | 07:50PM | 07:50PM |
| Round 11 |   |   |   |   |   |
| DATE | HOME | AWAY | VENUE | Kick-Off(Local) | Kick-Off(AEDT) |
| Friday, 4 January 2019 | Sydney FC | Central Coast Mariners | Jubilee Oval | 07:50PM | 07:50PM |
| Saturday, 5 January 2019 | Adelaide United | Wellington Phoenix | Coopers Stadium | 05:05PM | 05:35PM |
| Saturday, 5 January 2019 | Western Sydney Wanderers FC | Melbourne Victory | ANZ Stadium | 07:50PM | 07:50PM |
| Sunday, 6 January 2019 | Melbourne City FC | Newcastle Jets | AAMI Park | 05:00PM | 05:00PM |
| Sunday, 6 January 2019 | Brisbane Roar FC | Perth Glory | Suncorp Stadium | 06:00PM | 07:00PM |
| Round 12 - midweek |   |   |   |   |   |
| DATE | HOME | AWAY | VENUE | Kick-Off(Local) | Kick-Off(AEDT) |
| Wednesday, 2 January 2019 | Newcastle Jets | Brisbane Roar FC | McDonald Jones Stadium | 07:50PM | 07:50PM |
| Wednesday, 9 January 2019 | Western Sydney Wanderers FC | Wellington Phoenix | ANZ Stadium | 05:35PM | 05:35PM |
| Wednesday, 9 January 2019 | Adelaide United | Melbourne Victory | Coopers Stadium | 07:20PM | 07:50PM |
| Wednesday, 9 January 2019 | Perth Glory | Sydney FC | nib Stadium | 07:00PM | 10:00PM |
| Wednesday, 16 January 2019 | Central Coast Mariners | Melbourne City FC | Central Coast Stadium | 07:50PM | 07:50PM |
| Round 13 |   |   |   |   |   |
| DATE | HOME | AWAY | VENUE | Kick-Off(Local) | Kick-Off(AEDT) |
| Friday, 11 January 2019 | Melbourne City FC | Brisbane Roar FC | AAMI Park | 07:50PM | 07:50PM |
| Saturday, 12 January 2019 | Wellington Phoenix | Central Coast Mariners | Westpac Stadium | 07:35PM | 05:35PM |
| Saturday, 12 January 2019 | Melbourne Victory | Newcastle Jets | AAMI Park | 07:50PM | 07:50PM |
| Sunday, 13 January 2019 | Sydney FC | Adelaide United | Jubilee Oval | 06:00PM | 06:00PM |
| Sunday, 13 January 2019 | Perth Glory | Western Sydney Wanderers FC | nib Stadium | 05:00PM | 08:00PM |
| x 1 Tuesday |   |   |   |   |   |
| DATE | HOME | AWAY | VENUE | Kick-Off(Local) | Kick-Off(AEDT) |
| Friday, 18 January 2019 | Western Sydney Wanderers FC | Adelaide United | ANZ Stadium | 07:50PM | 07:50PM |
| Saturday, 19 January 2019 | Sydney FC | Newcastle Jets | Jubilee Oval | 05:35PM | 05:35PM |
| Saturday, 19 January 2019 | Melbourne City FC | Perth Glory | AAMI Park | 07:50PM | 07:50PM |
| Sunday, 20 January 2019 | Melbourne Victory | Wellington Phoenix | AAMI Park | 05:00PM | 05:00PM |
| Sunday, 20 January 2019 | Central Coast Mariners | Brisbane Roar FC | Central Coast Stadium | 07:00PM | 07:00PM |
| Round 15 - midweek |   |   |   |   |   |
| DATE | HOME | AWAY | VENUE | Kick-Off(Local) | Kick-Off(AEDT) |
| Tuesday, 15 January 2019 | Brisbane Roar FC | Melbourne Victory | [ TBC ] | 06:50PM | 07:50PM |
| Tuesday, 22 January 2019 | Melbourne City FC | Western Sydney Wanderers FC | AAMI Park | 07:50PM | 07:50PM |
| Wednesday, 23 January 2019 | Wellington Phoenix | Sydney FC | Westpac Stadium | 07:35PM | 05:35PM |
| Wednesday, 23 January 2019 | Newcastle Jets | Central Coast Mariners | McDonald Jones Stadium | 07:50PM | 07:50PM |
| Wednesday, 23 January 2019 | Perth Glory | Adelaide United | nib Stadium | 07:00PM | 10:00PM |
| Round 16 |   |   |   |   |   |
| DATE | HOME | AWAY | VENUE | Kick-Off(Local) | Kick-Off(AEDT) |
| Friday, 25 January 2019 | Brisbane Roar FC | Western Sydney Wanderers FC | Suncorp Stadium | 06:50PM | 07:50PM |
| Saturday, 26 January 2019 | Wellington Phoenix | Melbourne City FC | Westpac Stadium | 07:35PM | 05:35PM |
| Saturday, 26 January 2019 | Melbourne Victory | Sydney FC | AAMI Park | 07:50PM | 07:50PM |
| Sunday, 27 January 2019 | Adelaide United | Central Coast Mariners | Coopers Stadium | 05:30PM | 06:00PM |
| Sunday, 27 January 2019 | Perth Glory | Newcastle Jets | nib Stadium | 05:00PM | 08:00PM |
| Round 17 |   |   |   |   |   |
| DATE | HOME | AWAY | VENUE | Kick-Off(Local) | Kick-Off(AEDT) |
| Friday, 1 February 2019 | Western Sydney Wanderers FC | Newcastle Jets | ANZ Stadium | 07:50PM | 07:50PM |
| Saturday, 2 February 2019 | Central Coast Mariners | Melbourne Victory | Central Coast Stadium | 05:35PM | 05:35PM |
| Saturday, 2 February 2019 | Adelaide United | Brisbane Roar FC | Coopers Stadium | 07:20PM | 07:50PM |
| Saturday, 2 February 2019 | Perth Glory | Wellington Phoenix | nib Stadium | 05:00PM | 08:00PM |
| Sunday, 3 February 2019 | Sydney FC | Melbourne City FC | Jubilee Oval | 05:00PM | 05:00PM |
| Round 18 |   |   |   |   |   |
| DATE | HOME | AWAY | VENUE | Kick-Off(Local) | Kick-Off(AEDT) |
| Thursday, 7 February 2019 | Newcastle Jets | Wellington Phoenix | McDonald Jones Stadium | 07:50PM | 07:50PM |
| Friday, 8 February 2019 | Brisbane Roar FC | Sydney FC | Suncorp Stadium | 06:50PM | 07:50PM |
| Saturday, 9 February 2019 | Western Sydney Wanderers FC | Central Coast Mariners | [ TBC ] | 05:35PM | 05:35PM |
| Saturday, 9 February 2019 | Melbourne City FC | Adelaide United | AAMI Park | 07:50PM | 07:50PM |
| Sunday, 10 February 2019 | Melbourne Victory | Perth Glory | AAMI Park | 05:00PM | 05:00PM |
| Tuesday, February 12, 2019 | ACL Preliminary Stage 2 (Newcastle Jets home - TBC) |   |   |   |   |
| Round 19 |   |   |   |   |   |
| DATE | HOME | AWAY | VENUE | Kick-Off(Local) | Kick-Off(AEDT) |
| Friday, 15 February 2019 | Newcastle Jets | Melbourne City FC | McDonald Jones Stadium | 07:50PM | 07:50PM |
| Saturday, 16 February 2019 | Wellington Phoenix | Melbourne Victory | TBC | 07:35PM | 05:35PM |
| Saturday, 16 February 2019 | Adelaide United | Western Sydney Wanderers FC | Coopers Stadium | 07:20PM | 07:50PM |
| Saturday, 16 February 2019 | Perth Glory | Brisbane Roar FC | nib Stadium | 07:00PM | 10:00PM |
| Sunday, 17 February 2019 | Sydney FC | Central Coast Mariners | Leichhardt Oval | 05:00PM | 05:00PM |
| Tuesday, February 19, 2019 | ACL Play-Off Stage (Newcastle Jets away - TBC) |   |   |   |   |
| Round 20 |   |   |   |   |   |
| DATE | HOME | AWAY | VENUE | Kick-Off(Local) | Kick-Off(AEDT) |
| Friday, 22 February 2019 | Central Coast Mariners | Brisbane Roar FC | Central Coast Stadium | 07:50PM | 07:50PM |
| Saturday, 23 February 2019 | Wellington Phoenix | Sydney FC | [ TBC ] | 05:35PM | 05:35PM |
| Saturday, 23 February 2019 | Melbourne Victory | Melbourne City FC | Marvel Stadium | 07:50PM | 07:50PM |
| Sunday, 24 February 2019 | Newcastle Jets | Adelaide United | McDonald Jones Stadium | 05:00PM | 05:00PM |
| Sunday, 24 February 2019 | Western Sydney Wanderers FC | Perth Glory | [ TBC ] | 07:00PM | 07:00PM |
| Round 21 |   |   |   |   |   |
| DATE | HOME | AWAY | VENUE | Kick-Off(Local) | Kick-Off(AEDT) |
| Friday, 1 March 2019 | Sydney FC | Adelaide United | Leichhardt Oval | 07:50PM | 07:50PM |
| Saturday, 2 March 2019 | Melbourne Victory | Newcastle Jets | GMHBA Stadium (Geelong) | 07:50PM | 07:50PM |
| Sunday, 3 March 2019 | Melbourne City FC | Perth Glory | AAMI Park | 05:00PM | 05:00PM |
| Tuesday, March 05, 2019 | ACL MD1 |   |   |   |   |
| Wednesday, March 06, 2019 | ACL MD1 |   |   |   |   |
| Friday, 8 March 2019 | Brisbane Roar FC | Western Sydney Wanderers FC | Suncorp Stadium | 06:50PM | 07:50PM |
| Saturday, 9 March 2019 | Central Coast Mariners | Wellington Phoenix | Central Coast Stadium | 07:50PM | 07:50PM |
| Tuesday, March 12, 2019 | ACL MD2 |   |   |   |   |
| Wednesday, March 13, 2019 | ACL MD2 |   |   |   |   |
| Round 22 |   |   |   |   |   |
| DATE | HOME | AWAY | VENUE | Kick-Off(Local) | Kick-Off(AEDT) |
| Friday, 15 March 2019 | Melbourne Victory | Brisbane Roar FC | Marvel Stadium | 07:50PM | 07:50PM |
| Saturday, 16 March 2019 | Newcastle Jets | Central Coast Mariners | McDonald Jones Stadium | 05:35PM | 05:35PM |
| Saturday, 16 March 2019 | Sydney FC | Melbourne City FC | Sydney Cricket Ground | 07:50PM | 07:50PM |
| Sunday, 17 March 2019 | Wellington Phoenix | Western Sydney Wanderers FC | Westpac Stadium | 07:00PM | 05:00PM |
| Sunday, 17 March 2019 | Adelaide United | Perth Glory | Coopers Stadium | 06:30PM | 07:00PM |
| 18 - 26 March 2018 | FIFA Break - March |   |   |   |   |
| Round 23 |   |   |   |   |   |
| DATE | HOME | AWAY | VENUE | Kick-Off(Local) | Kick-Off(AEDT) |
| Friday, 29 March 2019 | Brisbane Roar FC | Sydney FC | Suncorp Stadium | 06:50PM | 07:50PM |
| Saturday, 30 March 2019 | Wellington Phoenix | Newcastle Jets | Westpac Stadium | 07:35PM | 05:35PM |
| Saturday, 30 March 2019 | Western Sydney Wanderers FC | Melbourne City FC | ANZ Stadium | 07:50PM | 07:50PM |
| Saturday, 30 March 2019 | Perth Glory | Melbourne Victory | nib Stadium | 07:00PM | 10:00PM |
| Sunday, 31 March 2019 | Central Coast Mariners | Adelaide United | Central Coast Stadium | 05:00PM | 05:00PM |
| Round 24 |   |   |   |   |   |
| DATE | HOME | AWAY | VENUE | Kick-Off(Local) | Kick-Off(AEDT, AEST) |
| Friday, 5 April 2019 | Melbourne City FC | Brisbane Roar FC | AAMI Park | 07:50PM | 07:50PM |
| Saturday, 6 April 2019 | Newcastle Jets | Western Sydney Wanderers FC | McDonald Jones Stadium | 05:35PM | 05:35PM |
| Saturday, 6 April 2019 | Sydney FC | Melbourne Victory | Sydney Cricket Ground | 07:50PM | 07:50PM |
| Sunday, 7 April 2019 | Adelaide United | Wellington Phoenix | Coopers Stadium | 04:30PM | 05:00PM |
| Sunday, 7 April 2019 | Central Coast Mariners | Perth Glory | Central Coast Stadium | 07:00PM | 07:00PM |
| Tuesday, April 09, 2019 | ACL MD3 |   |   |   |   |
| Wednesday, April 10, 2019 | ACL MD3 |   |   |   |   |
| Round 25 |   |   |   |   |   |
| DATE | HOME | AWAY | VENUE | Kick-Off(Local) | Kick-Off(AEST) |
| Friday, 12 April 2019 | Brisbane Roar FC | Wellington Phoenix | Suncorp Stadium | 07:50PM | 07:50PM |
| Saturday, 13 April 2019 | Melbourne City FC | Adelaide United | AAMI Park | 05:35PM | 05:35PM |
| Saturday, 13 April 2019 | Western Sydney Wanderers FC | Sydney FC | ANZ Stadium | 07:50PM | 07:50PM |
| Sunday, 14 April 2019 | Melbourne Victory | Central Coast Mariners | AAMI Park | 05:00PM | 05:00PM |
| Sunday, 14 April 2019 | Perth Glory | Newcastle Jets | nib Stadium | 05:00PM | 07:00PM |
| Round 26 |   |   |   |   |   |
| DATE | HOME | AWAY | VENUE | Kick-Off(Local) | Kick-Off(AEST) |
| Thursday, 18 April 2019 | Sydney FC | Perth Glory | Sydney Cricket Ground | 07:50PM | 07:50PM |
| Friday, 19 April 2019 | Adelaide United | Melbourne Victory | Coopers Stadium | 07:20PM | 07:50PM |
| Saturday, 20 April 2019 | Brisbane Roar FC | Newcastle Jets | Suncorp Stadium | 05:35PM | 05:35PM |
| Saturday, 20 April 2019 | Central Coast Mariners | Western Sydney Wanderers FC | Central Coast Stadium | 07:50PM | 07:50PM |
| Sunday, 21 April 2019 | Wellington Phoenix | Melbourne City FC | Westpac Stadium | 07:00PM | 05:00PM |
| Tuesday, April 23, 2019 | ACL MD4 |   |   |   |   |
| Wednesday, April 24, 2019 | ACL MD4 |   |   |   |   |
| Round 27 |   |   |   |   |   |
| DATE | HOME | AWAY | VENUE | Kick-Off(Local) | Kick-Off(AEST) |
| Thursday, 25 April 2019 | Brisbane Roar FC | Adelaide United | Suncorp Stadium | 02:00PM | 02:00PM |
| Friday, 26 April 2019 | Melbourne City FC | Central Coast Mariners | AAMI Park | 07:50PM | 07:50PM |
| Saturday, 27 April 2019 | Newcastle Jets | Sydney FC | McDonald Jones Stadium | 05:35PM | 05:35PM |
| Saturday, 27 April 2019 | Western Sydney Wanderers FC | Melbourne Victory | ANZ Stadium | 07:50PM | 07:50PM |
| Sunday, 28 April 2019 | Perth Glory | Wellington Phoenix | nib Stadium | 05:00PM | 07:00PM |