A-League
A-League finals: Undermanned Roar struggle to match City, Victory stronger in moments against Reds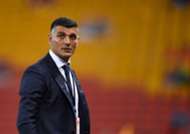 Ninety-one minutes and fifty-five seconds. That is how long took it took for Brisbane Roar coach John Aloisi to make his third and final change against Melbourne City, who by then were already making travel arrangements to Newcastle with a 2-0 lead.
Perhaps Roar's elimination from the finals was sealed from kick-off as the visitors were struck by a series of key injuries, specifically Brett Holman and key defensive pillars Jade North, Luke Devere and Avraam Papadopoulous.
The defence consisted of an awkward unit featuring natural midfielder Jacob Pepper, inexperienced youngster Connor O'Toole, Jack Hingert and Ivan Franjic, who was again deployed in an unnatural left-back role.
City expectedly started on the front foot, trying to penetrate the Brisbane defence at every opportunity and they did so with Stefan Mauk and Oliver Bozanic making direct runs in behind a slow Roar midfield pairing of Thomas Kristensen and Matt McKay.
Warren Joyce's men continued their dominance over the visitors throughout the first half with Bruno Fornaroli constantly running across the pockets to tire out the boys in orange.
It probably didn't help Roar's cause when their front three attackers of  Massimo Maccarone, Eric Bautheac and Fahid Ben Khalfallah hardly tracked their men back. This left wide open spaces for the likes of Scott Jamieson and Nathaniel Atkinson to push up and put pressure on Franjic and Hingert.
The pressure applied by City's full backs allowed Daniel Arzani and Dario Vidosic the time to look for Bruno Fornaroli in the penalty box. As a result, the home side had numerous chances in the first interval, only to head into the tunnels goalless through a lack of clinical finishing.
The second half continued the same way that the first had concluded. Henrique was occasionally swapping roles with Ben Khalfallah on the flanks and the attackling midfield area behind  Maccarone.
However, Henrique was being put to waste in the wider areas and was forced to constantly chase back to mark Atkinson, which meant he wasn't present in the attack when the Roar countered.
When City had 200 completed passes against Brisbane's 86 at half-time and 16 balls into the area versus only a single cross; you just knew that the opener would eventually come for the home side in the second stanza.
Hingert tried to wiggle out of Fornaroli's press but in the end lost his feet to allow the Uruguayan's assist for Mauk. The Roar defender had little option other than to simply kick it out for a throw in, which he probably wished he did after seeing the ball breach Jamie Young's net.
The greater concern was the lack of off-ball support provided by Roar's midfield, something that has been an underlining case for Aloisi's men all season.
Murphy's Law eventually kicked in as it so often does with Brisbane starting to find real chances after going a goal behind.
Eric Bautheac's speedy bursts down the right allowed Maccarone to get a sniff of his 12th goal of the season.
But the killer blow was only a matter of time away as the tired legs of Thomas Kristensen gave in while Vidosic pounced on a poor throw by Young.
He then effortlessly put in a superb cross for substitute Nick Fitzgerald's perfectly timed run.
Two nights later at the same venue, Melbourne Victory hosted Adelaide United.
The Reds do not have a great record against the home side but they put in a well-disciplined performance in the first half.
They hardly allowed the front three of Leroy George, Besart Berisha and Kosta Barbarouses to cause any trouble and matched the tough Victory midfield with workhorses of their own - in Isaias and Daniel Adlung.
The stalemate in the middle-third lead to both teams relying on the long ball over the defence and at times it gave into some half-chances.
The pacey Nikola Mileusnic was the most obvious threat for the visitors, troubling Melbourne's Leigh Broxham down the right flank.
Marco Kurz's men did score the opening goal after the break with what was their most effective plan of attack up to that point, getting Mileusnic to sneak away from the slow Melbourne defensive structure.
It was a wise move by the German tactician in playing musical chairs between Baba Diawara and Mileusnic, in order to drag James Donachie and Rhys Williams out wide, away from goal.
Ersan Gulum and Berisha's battle was a match on it's own with the pairing constantly battling for every header and tackle, right down to that desperate lunge. Jordan Elsey did not disappoint when replacing roles with Gulum.
Ben Garuccio held Barbarouses at bay until mid-way through through the second half. The Kiwi made the most of a yard of space to cross it in for Leroy George's equaliser.
George continued to cause problems for the Reds, almost setting up Berisha for the winner.
By the 80th minute mark, there were 35 fouls committed in total, showing the physical battle between the sides; not to mention the seven yellow cards shown by referee Chris Beath.
Adelaide were looking for the sucker punch with substitute Ryan Kitto entering the fray but Berisha showed how it was done with a sublime overhead kick. It was just so typical of the Kosovo international during finals time.
In the end, it was a heartbreaking end to a gutsy Adelaide performance but perhaps the somewhat passive Johan Absalonsen's potential substitution for Ryan Kitto earlier in the second interval may have been the way to go instead of Mileusnic making way after a classy performance for the visitors.
Adelaide don't look like they will need to go on a shopping spree for next season however a more potent target-man, rather than Baba Diawara who has only managed to bag four goals since arriving, could bring back the 2016 days for them.