Africa Cup of Nations Qualification
'A draw is not a bad result!' – Kenyans react as Harambee Stars hold Ethiopia away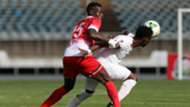 Harambee Stars moved top of Group F after holding hosts Ethiopia to a barren draw at the Bahir Dar Stadium on Wednesday.
The outcome means Stars have now amassed four points having beaten Ghana last month and a win in the return leg will increase their chances of making it to the Afcon finals for the first time since 2004.
Stars withstood a tough second half surge by the home side pushed on by a full-to-capacity stadium to pick up the points that pushes them closer to Cameroon. Caf is yet to decide whether or not results picked by teams against Sierra Leone – who are serving a Fifa ban – will stand in the road to qualification.
Sierra Leone were scheduled to play Ghana on Thursday but the match was called off. Here is how Kenyans reacted after the 0-0 draw away in Ethiopia.
#HarambeeStars a draw not bad for today @InfoKfcb

— Samson Mundia (@Mundiasamson) October 10, 2018
For once #HarambeeStars pic.twitter.com/voCnT25SE0

— Thomas Ndirangu (@TomKamaa) October 10, 2018
#HarambeeStars well done. Well deserved away point. pic.twitter.com/guB4pa9kIj

— 🇰🇪AFRICAN GOONER 🇰🇪 (@GitimuSir_me) October 10, 2018
We need to beat them at home #HarambeeStars pic.twitter.com/EGZVVYzhbM

— Brian. L. (@Blukase) October 10, 2018
A barren draw at Ethiopia but we still head the group.. Not a bad start of the #AFCONQ2019 for #HarambeeStars pic.twitter.com/wQiAEdiU18

— T H I R D EYE ™ (@THIRDEYE_254) October 10, 2018
Thought it was athletics championship standings..😁it's been a while Hoooollla!!!@harambeestars.. pic.twitter.com/z4Q6xFRZUv

— ouko felix (@oukofelix2) October 10, 2018
Well not bad after all the draw is still worth it for our national team
This means that Harrambe stars have not lost in their last 4 games #HarambeeStars

— Nathan_Sialah (@_sialah_) October 10, 2018
I can't imagine #HarambeeStars playing in #AFCON2019. Honestly ni ngumu sana.. pic.twitter.com/fhaOMClHMR

— #RIPKamaru (@nicholaswaititu) October 10, 2018
If #HarambeeStars can't qualify for #AFCONQ2019 with just three teams on the table....basi #Kitaeleweka pic.twitter.com/M0Dq4YjPai

— Mandere🇰🇪 (@mandere) October 10, 2018
For the first in my life. I've seen #HarambeeStars on top of a table. pic.twitter.com/pr0ENrtKOT

— Brown_ke (@Lansbrown) October 10, 2018
Well done #HarambeeStars after a goalless draw with Ethiopia. We are now a victory away from the 2019 AFCON finals in Cameroon. Tupatane Kasarani on Sunday as we demolish the Ethiopians. pic.twitter.com/xpcwLmhhRG

— Richard Bosire 🇰🇪 (@richybosire) October 10, 2018
I call upon all football enthusiasts to come out in large numbers and join us in cheering on @HarambeeStars_ this Sunday at the Kasarani Stadium in their return leg match against Ethiopia in the #AFCON2019 qualifiers match. #SimamaNaHarambeeStars

— Rashid Echesa (@CSRashidEchesa) October 10, 2018
The atmosphere was amazing I must admit. If Harambee Stars Ger the same, we beat Ethiopia 3-0 minimum!! pic.twitter.com/yxGIsQ6Pbo

— Mike Okinyi (@MikeOkinyi) October 10, 2018
Ethiopia 0 - 0 #HarambeeStars

Guys, we now need to win the match on Sunday!!!!!!!! pic.twitter.com/eC6oQnPirM

— Maina Kageni (@ItsMainaKageni) October 10, 2018
#AFCON2019Q

FT: Ethiopia 0-0 Kenya

A point today but we have to get all 3 on Sunday.
Let's fill Kasarani Stadium on Sunday for the return leg! #HarambeeStars pic.twitter.com/wqGDso2rTB

— Idah Waringa (@IdahWaringa) October 10, 2018