Liverpool
'A disgrace, a lack of class!' – Why Neil Warnock hates Liverpool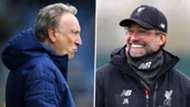 The message that arrived was typical Neil Warnock.
Short and aggressive.
The Cardiff City boss, not unusually, was furious. Furious with Nathaniel Clyne, furious with Liverpool. Furious with the world, as tends to be his way.
"For me, it's a disgrace and just a lack of class," Warnock told reporters, accusing the Reds of a lack of respect. He said he had been "promised" that Clyne would join Cardiff on loan, only to see the England international opt for Bournemouth instead.
"To not get a phone call from Nathaniel or from Liverpool, I thought that stank," continued Warnock, in no way distracting from Cardiff's FA Cup third-round defeat to League One side Gillingham.
Warnock's antipathy towards Liverpool goes back a long way. Hatred is a strong word, especially in this day and age, but certainly his bitterness and resentment towards the men from Anfield runs deep. It will add an extra layer of intrigue to Sunday's Premier League clash at the Cardiff City Stadium.
To tell the story of Warnock and Liverpool, we should go back to 2003, when he brought his Sheffield United side to Anfield for a League Cup semi-final second leg.
The Blades had won the first leg at Bramall Lane, but were narrowly beaten in extra time, after which Warnock became embroiled in an angry exchange with Liverpool players and staff on the pitch.
He accused Stephane Henchoz, the Swiss defender, of spitting at him – a claim both Henchoz and Gerard Houllier, his manager, vehemently denied.
"I was right there and I saw what happened," Houllier said. "He spat on the ground."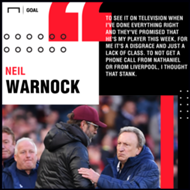 A seething Warnock went public with his accusations. "Sammy Lee knows what happened, Henchoz knows," he insisted. "I won't be changing my view."
He was asked why Henchoz would have done such a thing, crassly replying: "Well, he isn't English, is he?" Later, he would boast of how he had told Liverpool's assistant manager, Phil Thompson, to "f**k off Pinocchio" during the same game.
Four years later, he was back on the offensive. Sheffield United were battling relegation from the Premier League, while Liverpool were preparing for the Champions League final, a top-four finish already secured.
Rafa Benitez's side went to Fulham, making numerous changes in what, for them, was essentially a dead rubber.
Gabriel Paletta and Emiliano Insua played, while Harry Kewell made his first appearance in a year, though Benitez's team also included Pepe Reina, Sami Hyypia, Xabi Alonso, Craig Bellamy and Robbie Fowler.
"It wasn't even a reserve side," Warnock said. In any case, Fulham won 1-0 to move above Warnock's Sheffield United in the table.
The Blades would be relegated a week later, beaten at home by Wigan in a game they only needed to draw. Meanwhile at Old Trafford, a Carlos Tevez-inspired West Ham beat a weakened Manchester United to clinch their own survival.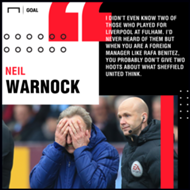 Warnock, of course, blamed Benitez. "At least I knew the [Manchester United] players who played," he said. "I didn't even know two of those who played for Liverpool at Fulham.
"I'd never heard of them but when you are a foreign manager like Rafa Benitez, you probably don't give two hoots about what Sheffield United think."
Years later he would claim, rather outlandishly, that "even Liverpool fans had been disgusted" by Benitez's selection that day. "I'm still very bitter about it," he revealed, while Benitez would respond by threatening legal action.
"We knew he was bad as a manager and prehistoric," the Spaniard said, acerbically. "But we didn't know he was a person like this. We don't need to waste our time with him."
Jurgen Klopp took a different approach when asked about Warnock before Cardiff's visit to Anfield in October. "He looks like a character!" the Reds boss said, smiling. "A very emotional and lively person, probably a bit like me?"
Klopp praised Warnock's "unbelievable" achievements in consistently earning promotion to the Premier League. Warnock, for his part, offered respect in return.
Whether that cordiality will still be there following the Clyne row, of course, remains to be seen.
Warnock made his feelings clear publicly on that one, while angry private messages were also sent to at least one Liverpool staff member. Old habits, it seems, die hard for one of English football's most 'colourful' characters.
How Warnock would love to get one over his old enemy this weekend. Liverpool's aim is to give him more reason to dislike them.