NPFL
3SC must work hard to win against Gombe United, says Amoo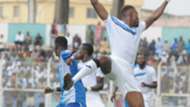 3SC head coach Fatai Amoo says his side must work hard to mastermind a victory against Gombe United at the Lekan Salami Stadium.
With Gombe United recently forcing a 2-2 draw at Ifeanyi Ubah, the gaffer is urging his wards to put in their very best to silence Manu Garba's men and ease their relegation fears.
"Whatever that happened in Jos against Plateau United, we have taken the positives and has confined the negatives to the past," Amoo told Goal.
"We are expecting a very tough game against Gombe United giving their position on the log. I want to believe every team on the league table is really working hard.
"So, no team can be underrated and we have our toughest game on Sunday and we have to face it squarely.
"We lost our last game away when we didn't expect the worse because of a poor pitch which favoured the home team understanding the bad turf more than us.
"We have to stand up to be counted because any slip is as good as the team going to be playing in the lower division.
"There is no miracle than for us than to work hard to win because Gombe will come for victory too. So, we must do everything to win. That means doing what's acceptable.
"Remembering how they played against Ifeanyi Ubah has not brought pressure but rather it has helped us to work harder. It has become the topic of discussion that we can never look down on Gombe.
"We have to play Gombe like we want to win the World Cup like seeing the trophy before us. At the end of the 90 minutes, we should be able to say yes - we've don't enough to win."