Transfers
£10m or not? How much could Chelsea really get from Dominic Solanke's Liverpool switch?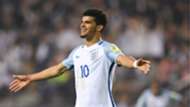 Chelsea's intention of receiving a record upfront training compensation fee from Liverpool for Dominic Solanke is unlikely to materialise if the matter goes to a tribunal.
The Premier League champions want in excess of £10 million for the 19-year-old, who will join the Merseysiders on July 1, following the expiration of his terms at Stamford Bridge.
The situation with Mohamed Salah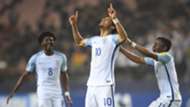 They are entitled to a fee for their development of the gifted forward despite his status as a free agent, as he is under 24. 
Such an amount would eclipse the £6.5m Liverpool were ordered to pay Burnley for Danny Ings in April last year, with the record ruling also including a further £1.5m in contingencies and a 20 per cent sell-on clause. 
Chelsea were involved in the previous highest decision when they had to compensate Manchester City for Daniel Sturridge, with £3.5m upfront plus £3m in add-ons and a 15% sell-on clause in January 2010.
Should Antonio Conte's side and Liverpool not be able to settle on an agreement for Solanke, which is expected as the latter feel £3m is a more accurate figure, the Professional Football Compensation Committee will again be called into action.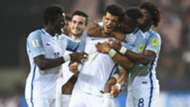 The Basingstoke-born talent bagged four goals as England won the Under-20 World Cup, lifting the Golden Ball award in the process as the player of the tournament.
His performances at the showpiece competition are a major factor behind Chelsea's belief they should receive a double-figure sum, but Liverpool will counter such an argument with the fact that he has not been a consistent part of their first-team set-up.
Football law expert Daniel Geey, a partner in the Sports Group at Sheridans, has explained to Goal in detail how the case would work if it is put before the PFCC:
---
  WHAT FACTORS WOULD BE CONSIDERED?
---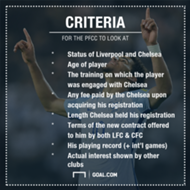 ---
  WHAT ARGUMENTS WOULD BOTH CLUBS SUBMIT?
---
Based on the above, with Solanke being 19 (turning 20 in September), factors like the transfer involving two Premier League clubs, the player having been developed at Chelsea for a significant period of time, playing 25 games for Vitesse on loan in 2015-16, being a substitute in a Champions League game making him the youngest player to debut for the Blues in the competition, plus his displays at the Under-20 World Cup will all be put forward as reasons why the compensation amount should be on the higher end of the established scale.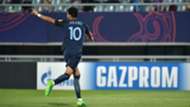 Liverpool would argue, however, that he has rarely been part of Chelsea's first team - especially in the last year when returning from Vitesse. All this would then point to a player with great potential, but someone who is not currently at elite Premier League level (when compared to previous high compensation awards for Sturridge and Ings). 
As such, the Reds would submit that because Solanke has not been ready to perform consistently in England's top flight, it would be premature for the PFCC to award a significant initial compensation amount. 
Past practice has been to 'back-load' any potential compensation with a small set figure award, coupled with appropriate performance-related payments (according to Premier League and international appearances, goals etc) alongside a sell-on fee should the player be sold at a profit at any point in the future. 
---
  WHAT WOULD BE A LIKELY OUTCOME?
---
It would seem unlikely that the PFCC would award an upfront compensation figure of more than that awarded to Burnley for Ings, but much will depend on the specific factors in this case like the contracts offered to him by both clubs (to assess how much they value him at) and, for example, specific interest shown by other clubs like Celtic and Red Bulll Leipzig, as has been reported.
Click here to read more of Daniel Geey's great work