10 reasons to watch the 2018 FIFA World Cup on DStv, GOtv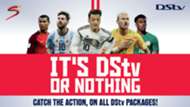 When the 2018 FIFA World Cup kicks off on the 14th of June, there will be no better place to catch the action than on DStv and GOtv.
From the opening match to the final match on 15th of July, football fans are assured of a robust coverage of the world's greatest football event on SuperSport, the biggest broadcast aggregator of sporting content across the African continent, exclusive to DStv and GOtv.
Here are the 10 reasons you should watch the World Cup matches on DStv, GOtv:
1)    All 64 games of the World Cup will be available LIVE and in HD on SuperSport for all active DStv, GOtv Max and GOtv Plus customers.
2)    Top-tier pre and post-match analyses provided by world-class football experts including Andy Townsend, Yaya Toure and Jay Jay Okocha,
3)    Clear signal and HD images. SuperSport boasts of clear signal delivered in High Definition that ensure the best picture and audio quality.
4)    SuperSport will air a variety of curated magazine programmes, which will provide rare insights into other aspects of the host country. Viewers get the opportunity to not just watch football, but also gain knowledge about the host country. This is exclusive to SuperSport.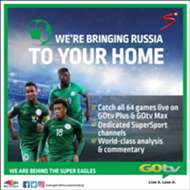 5)    For the first time ever, Nigerian football fans will get to enjoy great commentaries in Pidgin English, the country's most widely spoken language. The commentaries will be delivered by the most adept speakers of the language.
6)    A special World Cup pop-up channel, SuperSport 14 (SS14), on all DStv packages and on GOtv Max and Plus ahead of the soccer feast with an assortment of exciting content including great legacy footage, highlights, documentaries, FIFA films, classic matches and interviews
7)    MultiChoice is offering its DStv HD decoder, which includes a dish kit plus 1 month on Compact, for only N8,500 and its GOtv decoder which comes with the GOtenna and 1-month subscription on GOtv Max for only N5,900 to usher in this football season.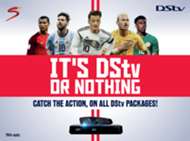 8)    Customers will have access to enjoy extra value through added benefits like live TV on-the-go via the DStv Now app, which will offer DStv Premium, Compact Plus and Compact customers an enhanced viewing experience of soccer events and title matches so they can enjoy the game anytime, anywhere on any device.
9)    DStv customers will be able to watch one match live while recording another on the ultra-sleek DStv Explora which offers full Personal Video Recorder (PVR) functionality. PVR enables you to record TV shows for later viewing as well as rewind and pause live TV.
10) Nigerians stand a chance to win fantastic prizes from the various competitions and trivia during the broadcast of the games.