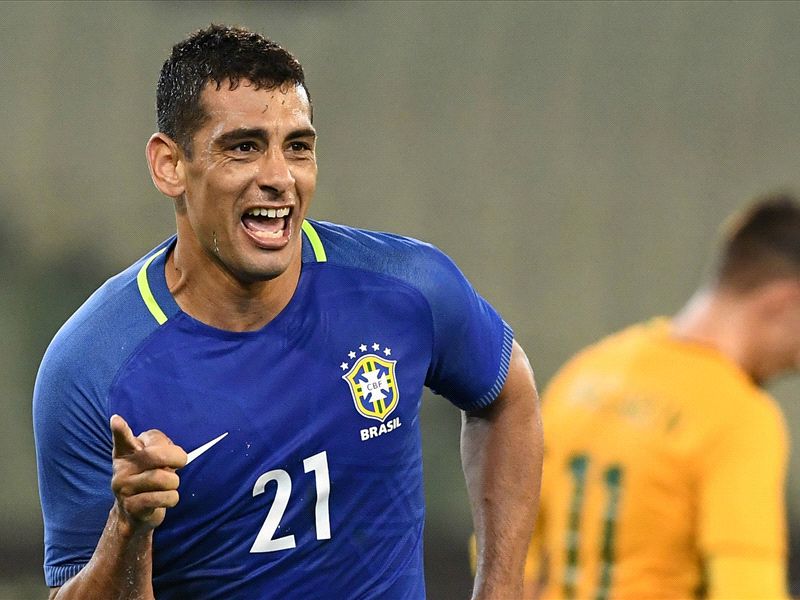 Tite didn't take long to decide. In his first interview following news of Gabriel Jesus' broken foot, the Brazil coach immediately namechecked Diego Souza.
Nobody else was really even in the conversation. So it came as no surprise that the Sport Recife forward's name was called when Tite announced that squad back in March.
---
READ MORE:
Coutinho to miss Japan clash | Brazil's World Cup hopefuls | Last chance for Douglas Costa
---
Commentators across the nation labelled it both strange and deserved, some expressed distrust, others great confidence as he became the first player from a North-Eastern club to be called up for a World Cup qualifier since 2001.

And wouldn't be a curious one-off. Diego Souza has now made four appearances under Tite and hit a brace against Australia in the June Brasil Global Tour clash in Melbourne.

Set to join the rest of the squad in Paris on Tuesday, Diego Souza returns this month hoping to cement a permanent role as back-up to starting striker Gabriel Jesus.
The 32-year-old has had a long and storied career and one rarely short of controversy. After rising through the ranks at Fluminense, he was snapped up Portuguese giants Benfica in 2005, only to make an instant return by joining Flu' fierce rivals Flamengo on loan.
Things never really worked out at Benfica and he embarked on a nomadic career, turning out for a host of Brazil's biggest clubs, including Gremio, Palmeiras, Atletico MG, Vasco and Cruzeiro as he was transformed from a defensive midfielder to an attacking midfielder.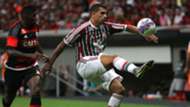 There were also stops in the Arabl world with Al-Ittihad and Ukraine and Metalist. But his best form was always reserved for those at home.
He endured a mixed spell with Flamengo and quickly moved on to Gremio, where he flourished under coach Mano Menezes in a side that went all the way to the final of the 2007 Copa Libertadores, only to be swept aside by a Juan Roman Riquelme-inspired Boca Juniors.
The following year, he joined Palmeiras where he alternated between hugely impressive on-field displays and bouts of indiscipline.
It was during his time with Palmeiras that Diego Souza got his first chance for Brazil, after Dunga called him up for a World Cup qualifier against Bolivia in La Paz.
He inspired Palmerias to the 2008 Campeonato Paulista but his disciplinary issues meant his time at the club wouldn't stretch beyond two years. A subsequent move to Atletico MG brought little success.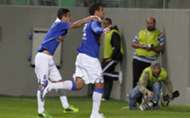 And so it was on to the next one, as Diego Souza rediscovered his form with Vasco, forming a vital part of the side that won the 2011 Copa do Brasil.
Diego Souza joined the domestic-based Brazil squad that saw off Argentina over two legs to claim to the Superclasico de las Americas title that year and led Vasco into the 2012 Copa Libertadores, which brought an epic quarter-final against eventual winners Corinthians.
After the first leg ended goalless in Rio, however, Vasco went down 1-0 in the second leg after Diego Souza missed his side's best change of the game. After charging down an attempted high ball from Alessandro, Diego Souza had the freedom of the field has galloped clear. He placed his shot wide of goalkeeper Cassio, but also wide of the post.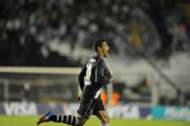 His performances at Vasco earned him a lucrative move to the Saudi Premier League, but that would last just a few months. His return to Brazil was even shorter, as a handful of impressive showings for Cruzeiro took him to Metalist, another short-lived stop on Diego Souza's long road to the North-East.
He joined Sport Recife on loan in 2014, stepping out of the limelight to move up to Pernambuco, and immediately flourished in more humble surroundings, as the 13th move of his career saw him strike lucky.
The 31-year-old has become an idol at the club. Though the old hubris never quite left, and he now goes by the moniker of DS87.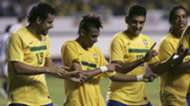 He starred in the Brazilian league last season, leading the goalscoring charts with 14 strikes as Sport avoided relegation and achieved a Copa Sudamericana qualification.
His fine form has continued into this season, where he is the league's fifth-top scorer despite his side finding themselves in a relegation battle.
Big, strong, able to play back-to-goal and lead from the front, he offers a different option to both Gabriel Jesus and Liverpool's Roberto Firmino.
Dani Alves #SelecaoBrasileira #CBGT pic.twitter.com/61TUMXTGWo

— Brasil Global Tour (@BGT_ENG) November 6, 2017
Diego Souza returns this month for the Brasil Global Tour tests with Japan and England hoping to get ahead in the ultra-competative battle for Tite's reserve slots at Russia 2018.

And should his name be called out again when Tite names his World Cup squad, there will be fewer echoes bouncing off the walls of CBG headquarters.